Words We're Watching
AMA
Ask Me Anything
---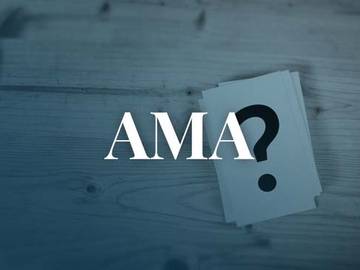 What does AMA mean?
AMA is an abbreviation for "ask me anything." As a noun it often means "an event during which a person will answer questions from an audience."
Where did AMA come from?
AMA appears to have gotten its start on Reddit, where it usually functions as a noun and refers to an opportunity provided for people to ask an expert questions:
Tomorrow from 2-3 p.m. EST: join @ForbesScience contributor Ethan Siegel for a @reddit AMA: https://t.co/wyHA0dhWls pic.twitter.com/CYMnGn2Um0

— Forbes (@Forbes) August 23, 2018
Wrote a quick guideline post on how to host an AMA on DEV.

Anyone is allowed to post these, and they're a lot of fun.

Also, if you know anybody doing "notable" things in software, anything cool, please feel free to recommend they do one.https://t.co/qXrAP3sQOv

— Ben Halpern 🎉 (@bendhalpern) August 23, 2018
How is AMA used?
Like many other new abbreviations AMA is most often encountered in online forums or on social media. On Twitter it's an invitation for your followers to ask you questions—possibly because you're bored, feeling chatty, or are having some kind of experience that is out of the ordinary:
I'm waiting for my car to get detailed and forgot my headphones. AMA

— Fishin: A Merfolk Podcast (@fishcastmtg) August 23, 2018
where am I now? you guessed it: Nebraska. AMA

— bryden (@brydenouement) August 23, 2018
I'm almost 37 and i just dyed my hair blue AMA

— oh hi jess (@Cake_Tease) August 23, 2018
Words We're Watching talks about words we are increasingly seeing in use but that have not yet met our criteria for entry.
---
---