Words at Play
Almoner
Cousin Isobel on Downton Abbey has a new title
---
Downton Abbey is back, and, along with the glares and the barely stifled emotion, so is the peerless scorn of the Dowager Countess of Grantham. But that scorn is a natural resource that requires a target, and, as usual, that target is Cousin Isobel.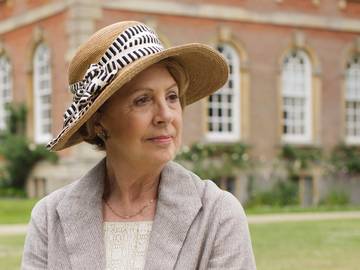 Photo:

© Nick Briggs/Carnival Film & Television Limited 2015 for MASTERPIECE
They have been uneasy colleagues on the board of the village hospital since Season One, when the Dowager's position was president and Cousin Isobel was granted the title "chairman." In the new season it's revealed that Isobel is now the almoner.
Almoner means "a social-service worker in a hospital" in British English. It originally meant either "purse" or "one who distributes alms," or one who gives money or food to the poor; the word has been in English since the 1300s, but the "hospital social worker" sense came into use in the 1890s. It would have seemed both generous and modern at the time Downton Abbey is set, qualities emphasized in Cousin Isobel's character.
Alms can mean "charity" or "money, clothes, food, and other things given to poor people." It's a short word that comes from a long root: the Greek word for "pity" or "alms" is eleēmosynē, which became eleemosyna in Latin and was shortened over time in English to alms. In the 1600s, when fancy Latinate words were sometimes brought into English because they seemed more elegant and serious and technical, people went back to the Classical roots and coined eleemosynary, meaning "of, relating to, or supported by charity." Two different words from the same root.
Downton Abbey is currently airing Sundays at 9pm ET on MASTERPIECE on PBS.
---