Words We're Watching
Get Ready To 'Vanna White'
You never know what might need presenting in your day-to-day life
---
Verbs made from people's names are less common than you might think. There's pasteurize, of course, and mirandize and bowdlerize. Other verbs from names double as nouns, like boycott and sandwich. The verb panic comes from the name of the Greek god Pan.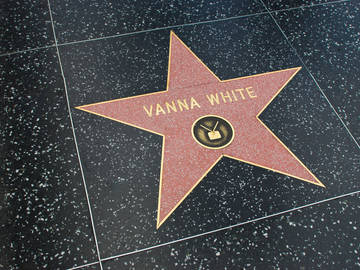 Usually, a new verb has to describe a specific action in order to catch on, and we've been seeing some use of a new verb with a very specific meaning: to Vanna White, named for the longtime hostess of Wheel of Fortune. It's used to mean "to gesture toward something in order to indicate it to an audience":
At that point I'd Vanna-Whited my bare arm toward massive palm fronds and wild orchids and whispering river water.
— Janna Cawrse Esarey, The Motion of the Ocean, 2009

Ruth Cummins was brilliant as she Vanna Whited the food.
—Brian Eason, The Clarion-Ledger (Jackson, Mississippi), 5 October 2012

While it was down to business most of the time, it did not deter the volunteers from having fun. The fun included showing the items for T. V. This method, 'Vanna Whiting it,' coined by Tim Derendinger last night showcased the items in their entirety.
—Edward Lang, Boonville (Missouri) Daily News, 11 March 2015

She Vanna Whited an arm toward the master bedroom's windows.
—Seth Margolis, Closing Costs, 2015

Many decorators find it very helpful to have a DCA staff member on hand to pull samples quickly and present them together so your clients may choose with your assistance. We call this Vanna Whiting because we are simply there to make the selection easier, smiling as we present our beautiful high-quality surface materials and hardware. You are the expert, and we merely assist you.
—DesignCenterofAcadiana.com
Using a person's or character's name to illustrate qualities they are associated with is a step toward generic use, like saying "he's a real Romeo," which requires knowing that Romeo means simply "a male lover" when used this way. There is some evidence of Vanna White in such use:
She was a 1950's Vanna White, a television hostess with the mostest who modeled a mink coat every week on the popular quiz show "The Big Payoff."
—Wendy Wasserstein, The New York Times Book Review, 8 April 1990
There's also evidence of Vanna White used as a verb for captioning photographs online, and there have been #VannaWhiting hashtags on Instagram and Twitter. The fact that you can also find Vanna White-style and Vanna White-esque being used shows that this specific action made by a specific person is starting to become more generic: it can apply to anyone who makes the motion. Only time will tell if this usage catches on. Verbal Vanna White isn't ready for dictionary entry yet, but it's pointing in the right direction.
Words We're Watching talks about words we are increasingly seeing in use but that have not yet met our criteria for entry.
---