Usage Notes
Out to Sea with 'Wave' and 'Waive'
Yes, we waver. But read on to see why.
---
A homophone is a word that is pronounced the same way as another but is different in meaning, origin, or spelling. In the case of wave and waive, they sound the same and have close meanings referring to acts of dismissal or disregard that are indicated by the waving of a hand or hands, or as if by waving. So does a referee wave or waive off a disallowed goal or a wrong penalty or infraction call? And does a press secretary wave or waive aside/off a question? Will an application fee be waved or waived? We'll make the call, but first let's look at the drafting and play of the words in the English language to make the right one.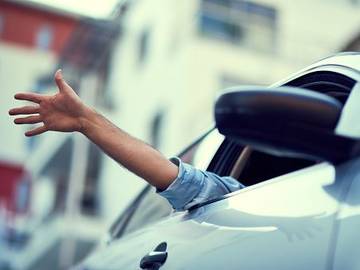 The Origin of 'Wave'
Wave traces to Old English wafian, which meant "to wave with the hands"; it is also akin to Old English wæfan, "to clothe," and might be stringed to wefan, "to weave" (weaving does involve up-and-down motion similar to waving, so don't wave that out). The verb rolled on to the shores of the English language with senses referring to moving loosely to and fro (e.g., "a flag waving in the breeze" or "a magician waving a wand"). In the 16th century, sailors began using it to denote the signaling of ships by making sweeping motions with uplifted hands or with something held in the hands, which is the likely precursor of waving in greeting or bidding farewell (as well as "waving your hands in the air like you don't care" when dancing).
The Origin of 'Waive'
The verb waive is of Anglo-French origin: it is derivative of the adjective waif, meaning "lost" or "stray," which English originally borrowed in senses denoting a stray person or animal and, more specifically, a young person who is thin and appears to have no home. Although of French origin, waive was adopted into modern English via Middle English weiven, meaning "to decline, reject, give up."
In medieval times, waive referred to the act of declining someone the protection of feudal law. Today, however, waive has come to signify that a person will voluntarily and intentionally not use or require something that he or she is allowed to have or that is usually required by established rule or law—in other words, he or she will "relinquish" or "forgo" something (such as a right, claim, or privilege). A person might "waive the right to an attorney," for example, or a college or university might "waive an application fee." In the early 20th century, it was drafted into sports jargon for a team relinquishing its right to claim a player and making him or her available to other teams.
Becoming Synonyms
During the 19th century, both wave and waive gained the sense of "to disregard" or "to dismiss or put out of mind" (usually followed by adverbs like off and aside), and homophony was certainly at play.
Our call, according to usage evidence, is that the verbs wave and waive are synonyms when used in senses referring to dismissal or disregard, but they also have specialized use. Context is the key in determining the better choice: wave is typically used in less formal contexts, and waive is the word to use in legal-speak, in all courts. But actual usage waves back-and-forth, so you can make your own call (some people will agree; others might disagree). Here are some examples from edited prose to deliberate:
Kahun's second goal originally was waved off by officials, who ruled Brandon Tanev interfered with Kaskisuo as the Penguins were trying to add to a 3-0 lead.
— Jerry DiPaola, The Tribune-Review (Pittsburgh, PA), 16 Nov. 2019

Twin Valley would produce some quality scoring chances late in the first half and had an apparent goal waived off with 25:08 to play….
— Pat Huggins, The Lebanon (Pennsylvania) Daily News, 12 Nov. 2019

He shook his head, offered his trademark grin and waved off the possibilities. "That's not what we do," he said.
— Edmund Lee, The New York Times, 11 Nov. 2019

If someone writes in a paper claiming that audiobooks are bad, it can be waived off as a personal opinion, but if someone were to write that audiobooks are bad and back it up with substantial rhetoric and cogent style, it could be the most convincing argument against audiobooks to ever exist. It all depends on what elements were considered when it was written. It is important to always keep this in mind when constructing an argument.
— Ian Pinkerton, The Towerlight (Towson University), 7 Oct. 2019

It may be a decision that has lot in its favor, either because going along with some particular thing just happens to be the right thing to do, or because the personal risk to you if you don't is too much to waive aside. In any case, it really helps to make those decisions with the help of as much independent information as you can find.
— George Pyle, The Salt Lake Tribune, 18 Jan. 2019

What if I wave aside the question as being unconscionably vulgar, I said?
— Jeremy Clarke, The Spectator, 20 Apr. 2019
---