Words of the Week
The Good, The Bad, & The Semantically Imprecise - 9/6/19
Some of the words that defined the week of September 6, 2019
---
Welcome to The Good, The Bad, & The Semantically Imprecise, in which we look over some of the words that tickled your curiosity this past week. Please note that the word bad is used here in a semantically vague fashion; we do not really think of any words as bad (although sometimes they are a bit unruly).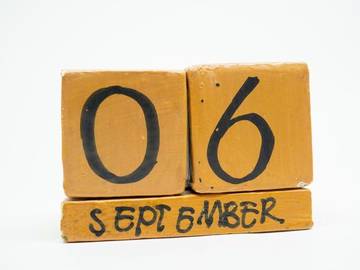 'Decalcomania'
For the past several hundred years it feels as though most of the words which attract considerable attention are driven by events, shenanigans, or malfeasance in the political arena. One welcome respite from this has been the field of K-pop, the devoted listeners of which will periodically cause a word or two to spike in lookups. This week it was decalcomania.
So, so far, it looks like the #JJK1 Tracklist consists of:

1. "I Want You/Decalcomania"
2. "Pork Belly/#Samgyupsal"

Already sounds lit AF. 😂😂😂 #Jungkook #BTS @BTS_twthttps://t.co/Sma4rt7Gdg

— Noelle Devoe (@Noelle_CD) September 2, 2019
We define decalcomania as "the art or process of transferring pictures and designs from specially prepared paper (as to glass)." The word may be traced to the French décalquer (meaning "to copy by tracing"), and has been in English use since the middle of the 19th century.
'Labor Day'
Labor Day was observed this past Monday, a national holiday typically observed by engaging in travel with family members. In the U.S. and Canada Labor Day is held on the first Monday of September; many other countries celebrate it on May 1st. Although there are records of Labor Day being celebrated in New York City as far back as 1882 the holiday was not officially sanctioned by Congress until 1894.
The Language of British Politics
Recent political developments in the UK have exposed many North Americans to a stark truth: there is a certain amount of sharply divided political opinion in the United Kingdom, and the citizens of these countries often express their displeasure with the political positions of others with words (and phrases) that are unfamiliar to us.
For those Americans attempting to follow UK politics on Twitter, the following list of definitions may prove useful: a prat is "a stupid or foolish person", a pillock is "a very stupid or foolish person", a berk is a fool, a git is "a foolish or worthless person," a wanker is a jerk (and "a person who masturbates"), and a dismal Jimmy is "a man noted for depressing pessimistic predictions and frame of mind."
'Coulrophobia'
Coulrophobia was on the minds of many this week, as those people who love to be scared by clowns eagerly looked forward to the release of Andy Muschietti's film It Chapter Two.
OUR ANNUAL DOSE OF COULROPHOBIA IMMERSION THERAPY. We're celebrating the second chapter of Stephen King's magnum opus with a nightmare-fuelling Clown-only screening of IT CHAPTER TWO.
— Alamo Drafthouse Cinema (drafthouse.com), accessed 4 Sept. 2019
Coulrophobia, in case it was not clear from the context provided above, is defined as "abnormal fear of clowns." We have no editorial comment on whether this definition indicates that there is also a normal fear of such things.
Our Antedating of the Week: 'sharpie'
For our antedating of the week we are looking at the sharpie. Many people think of sharpie as nothing more than a trademarked name for a type of magic marker. However, long before sharpie was being used to describe the sort of thing one might edit a map or chart with, the word was applied to a type of sailing vessel ("a long narrow shallow-draft boat with flat or slightly V-shaped bottom and one or two masts each carrying a triangular sail"). Our earliest evidence for this word had previously come in 1859, but recent research shows that there were sharpies at least as far back as 1856.
For the sail-boat race, five "Sharpies" and eleven sail boats were entered.
— New York Daily Times, 1 Aug. 1856
---