Words of the Week
The Good, The Bad, & The Semantically Imprecise - 6/7/19
Some of the words that defined the week of June 7, 2019
---
Welcome to The Good, The Bad, & The Semantically Imprecise, in which we look over some of the words that tickled your curiosity over the past week. Please note that the word bad is used here in a semantically vague fashion; we do not really think of any of these words as bad (although sometimes they are a bit unruly).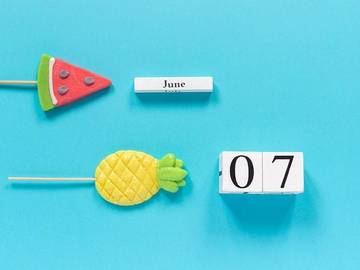 'Rikers Island'
News that President Trump's former campaign manager was to be sent to one of New York's less inviting correctional facilities caused a number of people to search in the dictionary for Rikers Island (which is occasionally referred to in clipped form as Rikers).
Paul Manafort to Be Sent to Rikers, Where He Will Be Held in Isolation
— The New York Times (headline), 4 Jun. 2019
Please note that the name is typically not written in a genitive form, and Rikers requires no apostrophe, even though the name of this island is said to have come from it having been owned by a 17th century Dutch merchant, Abraham Rycken. And although Rikers Island is well-known, it does not function as a synonym for prison or jail, as some names of such places (such as bridewell or bastille) occasionally do.
D-Day
The 75th anniversary of the Allied invasion of occupied France occurred this past week, and so considerable attention was focused on D-Day.
When the sun rises Thursday over the Normandy coastline where thousands of men bled and died 75 years ago, the diminishing number of World War II veterans who know firsthand of the sacrifices that were made to dismantle tyranny will remember D-Day and hope the world never forgets.
— John Leicester & Raf Casert, Associated Press (AP.com), 5 Jun. 2019
We have a broad definition for D-Day ("a day set for launching an operation") and a more specific one ("June 6, 1944, on which Allied forces began the invasion of France in World War II"). This is because the word has been in use since 1918 to mean the former, but since the mid-1940s has been primarily associated with the latter.
'Arabic numerals'
A recent poll found that many Americans appeared to be either strikingly opposed to teaching children basic math, or were unaware of the meaning of Arabic numerals.
Should Americans, as part of their school curriculum, learn Arabic numerals?
CivicScience, a Pittsburgh-based research firm, put that question to some 3,200 Americans recently in a poll seemingly about mathematics, but the outcome was a measure of students' attitudes toward the Arab world. Some 56 percent of the respondents said, "No." Fifteen percent had no opinion.
— Mustafa Akyol, The New York Times, 4 Jun. 2019
Our definition of Arabic numerals is "any of the number symbols 0, 1, 2, 3, 4, 5, 6, 7, 8, 9"; they are often contrasted with Roman numerals (I, II, III, IV, etc.). Our definition of innumerate is "marked by an ignorance of mathematics and the scientific approach."
'Vertigo'
Footage of a hiker who was rescued in Arizona through being airlifted by a helicopter and violently spun in the air went viral this week, causing many people to reflect on how pleasant it is to not experience feelings of vertigo ("a sensation of motion in which the individual or the individual's surroundings seem to whirl dizzily"). Vertigo comes from the Latin vertere ("to turn"), and is related to the somewhat more obscure word vertiginate, meaning "to whirl dizzily around" (as in 'I'm having a bad day, but at least I'm not vertiginating up to a helicopter').
Our Antedating of the Week: 'backpedal'
For our antedating of the week we turn to the world of velocipedes and statements that people wish they'd not made. Backpedal came into English in the 1870s, with an initial literal meaning of "to press backward on the pedals of a bicycle to check the forward motion." Before long the word began to be used in figurative manners, including "to retreat or back away," and "to back down from or reverse a previous opinion or stand." Our previous earliest record of non-bicycling use came in 1896; we now may say that people were backpedaling without any wheels or pedals as far back as 1895.
Wells a Weak Man. To borrow a term from the bicyclists, it may be said truthfully that Heber M. Wells is "back pedaling." Instead of going forward in the estimation of the people, he is gradually receding.
— The Salt Lake Herald (Salt Lake City, UT), 2 Sept. 1895
---