---
What to Know

In response to COVID-19, bubble is seeing new use in the realm of sports, referring to an isolated set of accommodations and venues in which athletes can reside and compete away from the general public.
Update: This meaning was added in January 2021.
Bubble—this Middle English word that is most familiar as a name for a tiny, round ball of air or gas inside a liquid is still expanding, semantically, in Modern English. About mid-20th century, the word came to designate an inflatable, dome-shaped structure that is used to cover such things as swimming pools, tennis courts, soccer fields, etc. Additionally, in 20th-century medicine, bubble started being used for a plastic covering or enclosure that protects a patient from infection. In the 21st century, a new sense of bubble relating to protection has popped up in sports.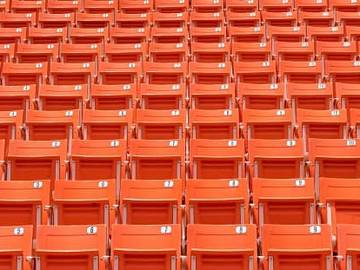 Lately, bubble can be seen and heard in reference to an area within which competing sports teams stay isolated from the general public during a series of games that includes accommodations, amenities, and the location at which the games are held without spectators in attendance. This "bubble" was conceived as a way to safely resume playing team sports during the COVID-19 pandemic.
At the hotel or similar establishment in the bubble, team players, coaches, and staff, as well as league personnel, are provided with their own rooms. During their time off from games, practices, training, and meetings, they are allowed to enjoy amenities, while following prescribed safety regulations and practicing social distancing, on the premises of their temporary residence. They might also be permitted to go to designated places for recreation or relaxation off the premises, but within the "bubble." Here are some citations of this new bubble showing its use and meaning.
Recent Examples
Every team in the NBA bubble has played golf. Most have had at least a few players go fishing. Some have taken boats out. Bowling is available for a few hours most nights. The barbers arrive for the first time later this week. And the walking trail is pretty much always occupied by coaches or players.
— Tim Reynolds, NBA.com, 15 Jul. 2020

In the days leading up to the NBA's Florida reboot, New Orleans Pelicans guard JJ Redick contemplated what provisions to bring for a stay in the Orlando bubble that would last at least five weeks. He initially focused only on the necessities and packed light. Then on July 8, once he arrived with the Pelicans at their appointed hotel, the Yacht Club, Redick gauged his room and hotel amenities.
— Baxter Holmes, ESPN, 6 Aug. 2020

The professional lacrosse tournament started July 25 with the league's seven teams in a fan-less environment. Players, coaches, league staff and NBC media have been confined to either the training facility or the SpringHill Suites in Draper, which the league bought out for the vast majority of the PLL [Premier Lacrosse League] traveling contingent. Some people are housed at the dormitories a short distance away from the facility. The entire PLL bubble consists of less than 300 people. There have been no positive COVID-19 tests since establishing the bubble.
— Alex Vejar, The Salt Lake Tribune, 9 Aug. 2020

The NHL "bubble" consists of limited areas in two hub cities—Edmonton and Toronto—where team personnel will be required to remain as the league tries to prevent the spread of COVID-19. Each club is taking up one floor in a designated hotel. Other access areas include arenas, practice facilities, dining destinations (hotel restaurants and bars, and conference areas where food is brought in) and "other demarcated areas (indoor and outdoor)," according to the league's Phase 4 protocols.
— Tom Gatto, Sporting News, 1 Aug. 2020
With this new sense of bubble, another sense has emerged. In sports media, bubble is being used to refer to the series of scheduled games played or to be played between teams staying in a bubble.
Oklahoma City … has already clinched a playoff spot and is 3-3 in the bubble.
— Reuters.com, 10 Aug. 2020

I have been trying so, so hard not to jinx anything about the Phoenix Suns improbable run to restart the 2019-20 season, but I can't stay quiet any longer: Devin Booker has been the best player in the Bubble and it's not particularly close at this point. Not only is he averaging 30.3 points (6th most during the Bubble), 3.8 rebounds, and 6.0 assists in 33 minutes per outing, but he's doing so on insane shooting splits of 50.4/33.3/94.0. Most importantly, though, is the Phoenix Suns 6-0 start in the Bubble, the longest winning streak for the franchise in over six years and the only undefeated team left in Orlando.
— Zack Geoghegan, Kentucky Sports Radio, 11 Aug. 2020

If there is one positive for the Bruins it's that the Capitals have also not looked like themselves early on in bubble play. They did take Tampa Bay to a shootout in their debut, a contest which the Lightning won, but they were then soundly beaten 3-1 by the Flyers….
— Michael Hurley, CBS Boston, 7 Aug. 2020
Considering the score of usage examples of these new senses of bubble in sports talk and writing, we judge that they are not on the bubble. They are serious contenders for entry into our dictionary, and ones we are seriously watching.
Words We're Watching talks about words we are increasingly seeing in use but that have not yet met our criteria for entry.
---