Word History
We Just Antedated 'Pantsuit' By 99 Years
1960s? Try 1860s
---
If you look up pantsuit in the dictionary, you'll see that it's defined as "a woman's ensemble consisting usually of a long jacket and pants of the same material." You'll also see that our first citation for the word comes from 1964. But as of this morning, that line is no longer true: new research shows that the word pantsuit is almost a hundred years older than we thought it was.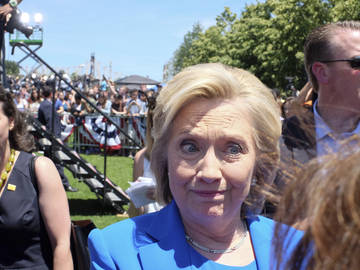 In its first incarnation, the pantsuit was worn by young boys. The earliest record we have of the word being used in English occurs in 1865, in an advertisement from a newspaper in Bloomington, Illinois, The Pantagraph: "Double Shawls, Gents' and Boys' Cloths for coats and pants suits." Throughout the remainder of the 19th century the word pantsuit (and such variants as pant-suit and pants-suit) is often found in advertisements, but typically only in reference to their being suitable for boys.
Youth, Boys & Children Clothing. From the prominent Houses in the country, dealing in these Garments. Overcoats, Vests & Pants Suits.
—The Constitution (Middletown, CT), 29 Sept. 1869

We have made preparations to clothe the boys, and have placed in stock large lines of school suits, well made and durable, short pants suits for the little ones, jackets suits, coatee suits and sack suits for advanced ages.
—Lowell Daily Citizen (Lowell, MA), 2 Sept. 1875

See our reductions in boy's short pantsuits, ages 4 to 10.
—St. Louis Post-Dispatch (St. Louis, MO), 5 July 1882

Boys' Department. 300 All-wool short pantsuits, in Plaited and Plain Blouses, sizes 4 to 12 years, reduced from $9.00, at $5.00
—The Boston Journal, 7 March 1884
It is not until the end of the 1950s that we begin to see evidence of the pantsuit being used with specific application as feminine attire. It appears to have been marketed first as something that was suitable for girls to wear, as seen in an advertisement placed by a maternity and children's shop in an Iowa newspaper.
1 Girls' Pant Suit…..$6.99
—The Mason City Glove-Gazette (Mason City, IA), 29 Oct. 1959
Within a few years the word pantsuit began to be used for something that women would wear, and notably, the early references to a feminine article of clothing occur in articles about fashion as well as in advertisements.
Women are flirting with the pantsuit.
—Eugenia Sheppard, The Evansville Courier (Evansville, IN), 2 Oct. 1964

The pantsuit … navy wool herringbone; 5 to 13. Jacket $25, Pants $15
—The Cleveland Plain Dealer, 15 Sept. 1964

Especially this season, when ladies' pants suits are as popular as skirt suits, there is now a need for a full wardrobe of suitable handbags.
—Jean Wilson, The Salina Journal (Salina, KS), 25 Oct. 1964
In other words, the pantsuit may be an invention of the 20th century, but it has some unexpected 19th century roots.
If you're confused as to why the word pantsuit is still around, Marc Bain's article "Why is a suit only a 'pantsuit' when a woman wears one?" discusses contemporary use of the term. And if you think pantsuits are funny, note that the word pants itself comes to us from comedy.
---