Words of the Week
The Good, The Bad, & The Semantically Imprecise - 7/6
The words that defined the week of July 6th, 2018
---
Welcome to The Good, The Bad, & The Semantically Imprecise, in which we look over some of the words that tickled your curiosity over the past week. Please note that the word bad is used here in a semantically vague fashion; we do not really think of any of these words as bad (although sometimes they are a bit unruly).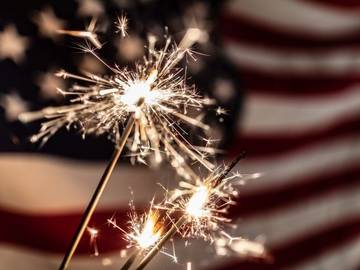 On July 4th the Internet did what it does best, and burst aflame in righteous indignation over the fact that people on Twitter were spelling Independence Day as Independance. The fragile bonds holding our nation together shuddered briefly, but after a bout of public derision they managed to hold together, and order was restored.
30,000 tweets and trending with IndepenDANCE day. It's spelled WRONG you idiots!!!!!!

Good thing we cancelled #Timeless. People might have accidentally gotten smarter. 🤦‍♀️ pic.twitter.com/fDbkliNhkU

— Jocelyn G (@jocfanaccount) July 4, 2018
We will take this opportunity to make fun of some of the lesser-educated among us, the ones who are so lacking in couth and letters that they spell the word independance.
I can only assure you then that I sincerely rejoice in the independance of your situation.
— Thomas Jefferson, Letter to Peyton Randolph, 23 Jul. 1770

Our open and avowed Enemys, together with the Officers and Soldiers of their Army, were exasperated at it, from a conviction that our Aim, at the beginning, was Independance.
— George Washington, Letter to Lund Washington, 6 Oct. 1776

While you are in it, I know you will execute it with Fidelity to your Master, but I think Independance more honourable than any Service....
— Benjamin Franklin, Letter to William Franklin, 7 May 1774?
In all seriousness, while independence may have once been occasionally rendered with an A in it, such is not the custom now; the accepted spelling of the holiday is Independence Day. Unless independance is maybe coming back? (Please don't make it come back.)
In other, stranger news, for the past month or two the word sexy has been periodically spiking in lookups. We don't know why this is, although we do know that most of the searches are coming from India. So if you are in Chennai or Lucknow and have this information, please drop us a line and let us know.
Canicular ("or or relating to the dog days") was also much on people's minds last week, partly due to the fact that it was our Word of the Day on Monday and partly because the whole week was very hot and dog-dayish in some areas of the country. The dog days of summer are so named not because of anything having to do with dogs, but because they are associated with the Dog Star, Sirius, which rises simultaneously with the sun during this time. Stop blaming dogs for the weather; they've got nothing to do with it and also have to deal with it while covered in fur.
Civility and incivility were likewise much on people's minds over the past seven days, so we will take this opportunity to make incivility our Antedating of the Week. Although the earliest recorded use of incivility had until recently been thought to have come during the late 16th century, new research shows that people were being uncivil to each other prior to this point. The word was in use as far back as 1559, and we are sure the concept predates that by a considerable amount.
But Christ by this matter wyl incur a matter of more importance, & not only reprehend the inciuilitie of Peter.
— M. Giulio, The xliiii Sermon of Master Giulio of Milane, 1559
---