Words at Play
The Good, The Bad, & The Semantically Imprecise - 6/8
The words that defined the week of June 8th, 2018
---
Welcome to The Good, The Bad, & The Semantically Imprecise, in which we look over some of the words that tickled your curiosity over the past week. Please note that the word bad is used here in a semantically vague fashion; we do not really think of any of these words as bad (although sometimes they are a bit unruly).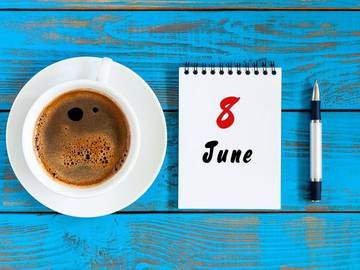 Irony and ironic both attracted a considerable amount of attention, after President Donald Trump employed the latter word in a manner that many people felt did not, in fact, bespeak irony.
https://twitter.com/realDonaldTrump/status/1004693718945984512
This word, which may be traced back to the Greek eirōn ("dissembler"), is what we might technically refer to as a tricky word. Much ink has been shed over the past hundred years, in attempts to properly define exactly what irony is. No matter how many treatises and paper have been written, and no matter how many definitions have been crafted, the English-speaking people have persisted in channeling Humpty Dumpty, and using irony to mean just what they choose it to mean.
This week also saw the anniversary of the day on which Allied forces began the invasion of France in World War II: June 6 1944. This specific date is known as D-day, although the term has been in use since at least 1918, referring to a day set for launching an operation. The D in D-day, somewhat confusingly, is an abbreviation of day.
Feckless remained high in lookups throughout the past week, courtesy of the imbroglio occasioned by Samantha Bee, who had earlier used this word as a modifier for a term which we do define, but typically do not promote on social media. The feck in feckless is not a euphemism, despite what your friends on Reddit tell you; it is a Scottish word, in this context meaning "value, worth." And in case you were wondering, feckless does indeed have an antonym, albeit one that is little used: feckful (it means "efficient, effective").
The Supreme Court issued a ruling in favor of the owners of Masterpiece Cakeshop, a Colorado bakery whose owners had refused to make a wedding cake for a gay couple. The decision was widely described as "narrow," which led to a degree of confusion for some, as the justices were split 7 to 2. Narrow is a polysemous word, with many possible meanings, and in this context was being used in the sense "limited in size or scope," rather than "of slender width."
To finish this week's roundup of things lexicographic, we'll take this opportunity to share some of the ongoing research into the history of the language, an essential component of any dictionary. Until this week our earliest evidence of the word immigrant ("a person who comes to a country to take up permanent residence") was from the year 1789. Recent findings have pushed this use back to at least 1780.
As to the sacrifice of men by these new immigrants into Egypt, it cannot be concluded their general practice; for the Phoenicians, from whom they are represented to have derived this instance of brutal barbarism, deified those of their own country, when dead.
— Rhodius Apollonius (trans.), The Argonautic Expedition, 1780
---