Words at Play
Words We're Watching: 'Stimmy'
And waiting to get ours.
---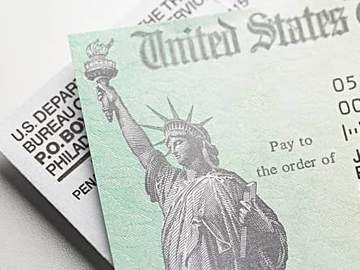 Are you waiting for your stimmy?
Stimmy is a slang term that has taken hold to refer to the economic stimulus payments made to Americans by the U.S. government as part of a planned coronavirus relief package. The first of such payments were sent out in April and May of 2020, and the prospect of second and third rounds of funds being delivered in 2021 led to renewed use of the term.
The pandemic caused economic calamity in many industries. As jobs were lost and people struggled to find new sources of income, stimmy became a term that both celebrated the news of a windfall coming people's way but also belittled it, as many deemed the amount insufficient to make up for the substantial losses incurred.
Early Use of 'Stimmy'
First use of stimmy seems to have arisen, naturally, during the months when the first stimulus package was debated and approved:
Word on the federal stimulus checks — aka "stimmy" — is spreading much faster than, say, the CDC facemask recommendation. Seems like everybody's getting their $1,200, and many others will be getting their $600 federal unemployment boost starting this week.
— Brian Clarey, Triad City Beat, 16 Apr. 2020

Allow Me To Introduce You To The Face Off!!! This Is Not A Battle. This Is A Celebration Between Homies of Over 50 yrs Combined Dropping Slap!!! Limited Merch For This Event Will Be Available So Save That Stimmy Check!
— DJ Paul, on Facebook, 27 Apr. 2020
Stimmy, of course, comes from a shortening of stimulus with the popular -y noun suffix added. The pattern follows a "nicknaming" of sorts: just as Thomas becomes Tommy and Timothy becomes Timmy, stimulus becomes stimmy. Along with such slang as quarantini and the rona, the word follows what seems to have become a trend of adopting ironically playful language for the new, dire reality brought on by the pandemic.
Wider Use of 'Stimmy'
The word has been adopted, somewhat waggishly, into finance journalism:
A good chunk of that fresh "stimmy" money about to be funneled into American households via the $1.9 trillion COVID-19 relief bill may find its way into the stock market, pontificates Goldman Sachs.
— Brian Sozzi, Yahoo! Money, 8 Mar. 2021

If you keep scrolling down, there are thousands of tweets about flipping the stimmy into bitcoin. And, what do you know, here's the BTC chart over the past week. See if you can spot when the stimmy started landing:
— Jamie Powell, Financial Times, 4 Jan. 2021
Words We're Watching talks about words we are increasingly seeing in use but that have not yet met our criteria for entry.
---