Usage Notes
Is it 'stamp' or 'stomp'?
It really depends on how you feel
---
What to Know

Stomp began as an dialectical variant of stamp in American English and is now regarded as a standard synonym. However, usage suggest that "stomp" connotes more violence, intensity, or emotion than it counterpart.
Stomp originated in American English as a dialectal variant of stamp and was first recorded in the early 19th century. The passing years have seen it gain steadily in respectability, and its status in current American English—and British English, as well—is that of a standard synonym of stamp in its senses having to do, literally and figuratively, with bringing the foot down heavily.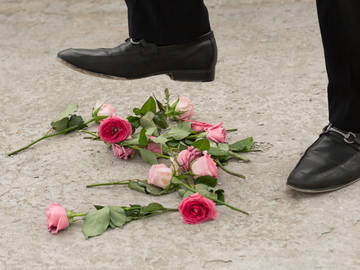 You can almost visualise him puffing out his chest, and stomping around his office.
— James Moore, The Independent (United Kingdom), 23 Feb. 2017

Bon vivants in Stetsons stomp snow off their cowboy boots to head into upscale shops on Canyon Road….
— Sunset Magazine, December 1991

After that three-pointer …, Turner threw a fist pump across his chest and stomped his foot in celebration.
— Jacob Bogage, The Washington Post, 24 Feb. 2017

All it takes is a ... team of well-financed lawyers to stomp out opposition.
— Peter Wayner, The New York Times, 24 Aug. 2000
These uses of stomp are generally uncontroversial, and it is easy to see how stamp can be substituted for stomp without affecting meaning. There are instances, however, in which the words are not readily interchangeable because stomp has developed connotations not associated with stamp.
Usage of Stomp
Stomp often implies an intense degree of anger, and even brutality, when bringing down the foot that goes beyond the aggression which stamp can sometimes indicate.
What she couldn't tear, she stomped on, regretting that her mouth was too dry to summon up enough spit.
— Gloria Naylor, Linden Hills, 1985

It took exactly 63 seconds into the defense of his first national championship to stomp, signal and scream for Timeout No. 1.
— Jeff Jacobs, The Hartford Courant, 10 Nov. 1999

Deer have kicked and stomped dogs.
— Linda Wilson Fuoco, The Pittsburgh Post-Gazette, 5 June 2015

He was grappling with his nature, growing, changing, striving to become an individual in his own right; and, for the effort, the world was stomping on his heart.
— Bill Barich, The New Yorker, 29 Aug. 1988
Stomp is also often the choice to convey a relentless pounding or beating, literally and figuratively.
… the workers would stomp grapes with their feet while dancing in a large wooden vat….
— Alexandra Ciarcia, The Livingston County News (New York), 23 Feb. 2017

Darman and the President have been stomping on the proposal, trying to drive a stake into it, but, in one form or another, it won't quite die.
— Elizabeth Drew, The New Yorker, 19 Feb. 1990

The Wolverines trounced Rutgers 78-0, one week after the Buckeyes stomped the Scarlet Knights 58-0.
— Brian Bennett, ESPN, 19 Nov. 2016
These examples show that stomp tends to suggest more intensity and forcefulness than its synonym, stamp. Yes, you can "stamp out of a room," "stamp on the brakes," or "stamp out poverty," but if the stamping is heavily charged with emotion, stomp is the word to use.
---