Usage Notes
When to Use 'Smote' and When to Use 'Smitten'
It really depends on who's doing the smiting
---
What to Know

Smite has taken on a number of senses that have historically been related to being struck or afflicted. However, over time the past tense smitten has come to mean being struck by love or affection. This is the most common usage and is past participle of "smite." Smote on the other hand, is the simple past tense, and is still related to divine punishment.
We often hear that words such as literally should not be allowed to take on certain figurative meanings that appear to mean the opposite of the word's ostensible earliest meaning. However, the English language is rich in words which mean a thing and its opposite (these are called contronyms). We have many words such as cleave, splice, and finished, all of which have senses differing greatly from each other.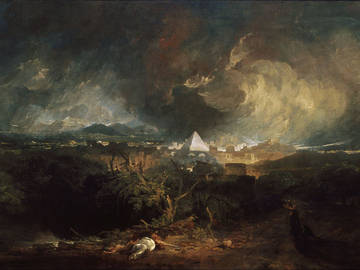 And we have even more words which may not have senses that are opposite to each other, but are still dissimilar enough to invite question. Smitten, for instance.
Nowadays, when we refer to someone as smitten we are most likely saying that they are captivated or infatuated with a thing or a person (usually a person). This past participle of smite may be the most common sense of the word found today, but it is also a bit of an outlier, and markedly different from most of the other senses. Smite comes from an Old English word meaning "to smear or defile," and the meanings of the word did not improve very much when it moved from Old English to Middle English and on to Early Modern English.
The Meaning of 'Smite'
Smite has had a number of senses over the ages, most of which had to do with striking, hitting, injuring, punishing, or afflicting someone. If we look at books published in the first half of the 17th century, the following is a very partial list of the kinds of things people were getting smitten with: leprosy, death, the plague, blindness, fear, sorrow, remorse, a most stinking and vile disease, ulcers, boils, the sword, fiery darts from heaven, the pox, barrenness, angels, God's displeasure/hand/scourges/rod/terrible thunderbolts/wrath…
In short, it was not a very good time to be smitten. But! In the middle of the 17th century we begin to see signs that getting smitten might not be so bad after all.
Me-thinks from utmost Inns of Court I see
Young Amorists smitten with Bellesa's look
Caught by the Gills, and fastned to your Book.
—Walter Montagu, The Shepheard's Paradise, 1659

But smitten with love on sweet Jenny he gaz'd,
and beg'd on his knees that she there would remain….
—(Anon.), The Amorous Gallant, 1655
Around 1650 smitten began to be used to refer to not simply being struck, but being struck with affection or longing. This sense existed for hundreds of years side by side with all the senses which you'd rather avoid, and the fact that smite had dissimilar meanings does not seem to have confused many people ("I found myself smitten." "Wait…do you mean you're in love, or do you mean that God's displeasure has rained fiery darts of leprosy from heaven upon you? Very confused here.")
'Smitten' vs. 'Smote'
What of smote? Is there a difference between being smitten and smote? That depends on who or what was doing the smiting, and when it was being done. In part because it has been in use since the time of Old English, smite has taken on many many variant forms (too many to go over in any detail here). Smote now tends to occupy the past tense of the verb, and smitten tends to serve as the past participle. There has been a great deal of overlap between these roles in the past 800 years or so, and again, both the past tense and the past participles have a good amount of variation (smat, smet, smit, smot, and smyt, are some of these variants, although, oddly enough, smut appears to not be one.
Here is a short and handy guide to the cutting-edge, 21st century forms of smite:
You plan on inflicting dire and retributive punishment on someone: "I will smite you."
Someone has inflicted dire and retributive punishment on you: "He smote me."
You are in love (or you have experienced a plague of frogs): "I have been smitten."
---