Words at Play
Frank Sinatra: Too Marvelous for Words
Sinatra's love of language—and a song celebrating those times when words fail us
---
Sinatra loved words. He once said, "I'll leave the music to somebody else. I'll pick the words." His diction was clear and easy to understand, and his interpretations of songs gave real meaning to those words—whether the song was manic or depressive, swinging or moody. (He also famously loved crossword puzzles.)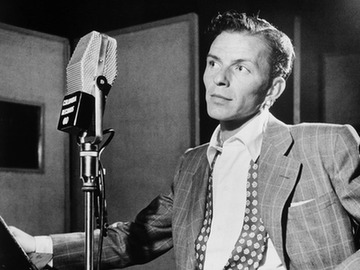 Photo:

William P. Gottlieb
It's no surprise, then, that he seemed to have a special fondness for "Too Marvelous for Words," the song composed by Richard Whiting with lyrics by Johnny Mercer. Mercer was himself a singer—he made a hit version of "Baby it's Cold Outside" with Margaret Whiting, Richard's daughter—and he had a knack for making poetic rhymes sound conversational. His songs sometimes told stories, like a three-minute play; Sinatra used "One for My Baby (and One More for the Road)," by Mercer and Harold Arlen, as a dramatic set piece of self-pity and loss.
On the opposite end of the emotional spectrum, "Too Marvelous for Words" is an exuberant declaration of love, with the happy singer struggling to find superlatives for the object of his affection:
You're much too much
And just too very, very
To ever be in Webster's Dictionary
Mercer knew that when we're emotional, we can't always think clearly. When trying too hard for a perfect word or a fancy word, we end up just repeating the simplest of words: "much too much, and just too very, very." The split infinitive ("to ever be") conveys both intensity (of course there's no word good enough!) and the tone of everyday speech.
Sinatra recorded it on Songs for Swingin' Lovers with arranger Nelson Riddle in 1956, one of the first concept albums in pop music. It's considered among Sinatra's very best. Here's Sinatra singing Riddle's arrangement:
On his world tour in 1962 with a jazz sextet led by pianist Bill Miller, the tempo was quicker and Sinatra's phrasing is more relaxed. Notice that he sings "dictionary" without "Webster's" on the second chorus; on the Paris stage of this tour, he dropped Webster's name altogether, using the extra space for some creative rhythmic improvisation. He probably assumed that the reference wouldn't be understood outside the U.S.:
Another version from the Tokyo leg of the same tour shows Sinatra opening his concert with the song, singing with careful diction for the audience, many of whom probably didn't speak English.
A television appearance with jazz great Red Norvo on vibraphone showed him having more fun with the lyric, substituting "Danny's Dictionary" for "Webster's Dictionary." Sinatra was not the first nor the last person to confuse Daniel Webster, the Massachusetts senator, with Noah Webster, who wrote the dictionary.
Finally, Sinatra performed the song with more bite and a harder swing in a new arrangement in 1965 with Count Basie's band. Note the young Quincy Jones conducting.
After the mid-60s Sinatra seems to have rarely, if ever, performed the song, but it was a staple of his repertoire during the peak of his career.
---