Word History
The Hairy History of 'Sideburns'
Burnside was a truly unimpressive general, but his facial hair was on point
---
Facial hair configurations inspire great vocabulary: the handlebar mustache, for instance, so aptly named; or sideburns, which look like...well, why do we call them sideburns?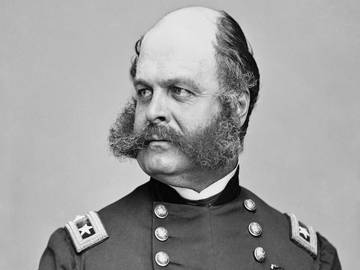 The original sideburns were called burnsides. Burnsides were a magnificent construction of facial hair, one to make any hipster jealous: thick strips of facial hair growing down the cheeks and connecting to a full mustache, but with a clean shaven chin.
Burnsides owe their existence to General Ambrose Burnside, a Civil War veteran, industrialist, innovator, and Rhode Island senator who died in 1881. Burnside was a graduate of the United States Military Academy, and held a commission in the U.S. Army until 1853, when he resigned. He moved back to his home state of Rhode Island, where he maintained membership in the state militia, and began to manufacture firearms, and in particular a lightweight rifle he held the patent on and called the Burnside carbine. Because of his firearms manufacturing and his militia service, he was well-positioned when the Civil War broke out, and was eventually made a general in the Union Army.
His tenure as a Civil War general was less than stellar: he was criticized for his ineffectiveness at the Battle of Antietam, and was the one responsible for the crushing Union defeat at the Battle of Fredericksburg (though it must be said that he had only reluctantly accepted charge of the Union forces heading into Fredericksburg). Following the Civil War, he spent the rest of his days as a governor and senator of Rhode Island.
But before his death in 1881, Burnside had become a household name—not for his firearms, nor for his military service, but for his luxuriant facial hair. Prior to World War I, several branches of the armed forces allowed facial hair in all its glory, and many soldiers followed the tonsorial fashions of the day, wearing beards, goatees, and long side-whiskers. Burnside's facial hair was so notable that the name Burnside whiskers came to be used to refer to his mustache-side-whiskers combo. We have evidence of this use all the way back to 1866:
The thieves before going into Court, were specially careful of their toilet, and from all reports, as a great many ladies were in attendance, were much admired—looked the "gentleman" much more than honest men surrounding—particular the thief with the "Burnside whiskers," who was, in point of physical attraction, voted par excellence. —Evening Telegraph (Philadelphia, PA), 15 May 1866
The Burnside, so notable, had a palpable influence not just on men's grooming, but on English. Under the rule of the Burnside, the name for the long strips of facial hair worn in front of the ears and along the cheeks were no longer called side-whiskers, but came to be called sideburns, a play on burnside. We have newspaper evidence of the word sideburn all the way back to 1875, where they were a popular, if less radical, grooming choice than the Burnside.
---