Usage Notes
'Shaken' (Not Stirred) and Leaving Us 'Shook'
The participle made famous by Elvis
---
The verb shake takes as its standard past tense form shook ("he shook my hand") and, in most instances, shaken as its standard past participle "she had shaken her husband awake").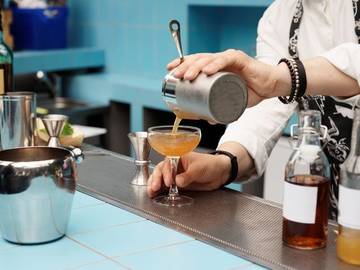 That past participle is also, as usual, used in passive constructions, more often than not in the figurative sense of causing someone to feel upset or agitated, but also occasionally in the literal sense:
The bus was a special education bus that had just finished its noon run, Superintendent Jeff Beal previously said in a message. Both the driver and a monitor on the bus were shaken, but uninjured, he said.
— Nathan Clark, MLive.com, 28 Aug. 2018

The phenomenon in which a mixture's larger objects, such as the Brazil nuts in a can of mixed nuts, rise to the top when the mix is shaken vertically.
— Thomas Sumner, Science News, 4 Oct. 2014
But increasingly we are seeing use of shook as the chosen participial form when used to mean "upset or agitated":
During her time there, he said, she co-chaired a competition for business students. She also took part each year in frosh week and was a good athlete. "The whole Ryerson community is shook," Mr. [Jordan] Becker said.
— Carlo Allegri, Reuters, 24 Apr. 2018
...or to mean "filled with excitement or dismay":
Well, it's one of the biggest museums in the U.S., so I was shook when they emailed me. I thought, 'Are you sure you reached the right person?'
— Quil Lemons, in The Philadelphia Inquirer, 29 Aug. 2018
Participial use of shook has long been considered a dialectal phenomenon by most usage commentators. The OED labels adjectival shook "usually [in constructions with] up" and "originally and chiefly U.S." Elvis Presley made participial shook famous with the song "All Shook Up" (1957), written by the African-American composer (and rock pioneer) Otis Blackwell.
Examples of participial shook can be found throughout English literature, both on its own and as part of the collocation shook up:
And I'll not deny neither but what some of my people was shook--maybe all was shook; maybe I was shook myself; maybe that's why I'm here for terms.
— Robert Louis Stevenson, Treasure Island, 1883

"Well, you was shook up and silly," said Dan. "Anyway, there was only dad an' me aboard to see it. The cook he don't count."
— Rudyard Kipling, Captains Courageous, 1897
Part of the reasoning for considering participial shook a dialectal use is how frequently it occurs in spoken language and dialogue compared to edited writing. But recent use finds shook as a participle in slightly more formal contexts, such as news writing, suggesting that it is becoming more universal and standard:
The basketball world was shook to its core Thursday night thanks to Game 1 of the 2018 NBA Finals. But judging by his facial expressions, there was no one more thrown by the game's rollercoaster ending than LeBron James himself.
— Megan McCluskey, Time, 1 June 2018

Some of the features of Samsung's newest phones, the Galaxy S9 and the Galaxy S9 Plus, have left me shook. Not because of the onward march of technology but because it feels like Samsung has been spying on me.
— Ashlee Clark Thompson, CNET, 1 Mar. 2018

In 2017, the Coast Guard was shook by proposals to cut $1.3 billion from its budget to help fund the U.S.-Mexico border wall, The Washington Post reported.
— CNBC.com, 1 June 2018
With all this shakin' going on, we could see participial shook grow enough in use to rival shaken. Enough to give us the shakes.
---