---
In the field of communications, radio silence refers, rather straightforwardly, to a period or condition when radios are not transmitting.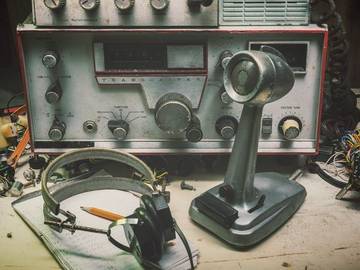 In military operations, radio silence is usually a command issued from above, as out of fear that a signal might be intercepted by an enemy. And maritime radio operators, for example, might follow a directive of radio silence in order to hear faint distress signals.
"You think he would have turned back if he missed? And if it was anything but a Bear, he'd have broken radio silence. ESM, we copy any radio traffic from zero-eight-zero?"
— Tom Clancy, Red Storm Rising, 1986

Pearl Harbor had been attacked by Japanese warplanes and had suffered heavy losses; the United States was at war. We were stunned. We looked around at each other and realized there was no going back over the Pacific. I ordered radio silence, then posted lookouts in the navigator's blister.
— Robert Ford, Air & Space, June/July 1995
But nowadays we might hear of a celebrity or other normally communicative figure going radio silent or giving nothing but radio silence. That occurs when the person stops making public announcements or appearances in the media. There is a semantic shift from the sense used in actual radio, and not just due to the change in technology—the new use implies a willing removal from conversation on the part of the communicator, leaving the listener on the other end at a loss for information.
All the state's pointy-headed politicos, myself included, had predicted by now a political storm of epic proportions or, as Alan Lange of Y'all Politics put it, that "a donnybrook was about to ensue." But so far with the June 5 primaries nearly upon us for two of the races ... there's still radio silence and no real battles joined.
— Geoff Pender, The Clarion Ledger (Jackson, Mississippi), 25 May 2018

As he did after the first season, Good Place creator Michael Schur went radio silent for several months to let the audience consider the finale's ramifications without being influenced by the voice of the show's deity. Now, he's finally ready to spill via a long email interview, as he clarifies where exactly the four dum-dums are, discusses what it was like to put former Cheers star Ted Danson behind a bar again, explains some more about how his version of the afterlife functions and a lot more.
— Alan Sepinwall, RollingStone.com, 12 June 2018

You have to hand it to Microsoft for trying surprise announcement/availability on for size for its latest release a la Adele, Drake or Kanye West. Gears of War: Ultimate Edition hits PC today. If you'll remember, the PC port was announced back at E3 last year. But following its console-based counterpart's release last August, Redmond's been mostly radio silent on the topic.
— Timothy J. Seppala, Engadget, 1 Mar. 2016
It is interesting that the term has re-risen to the surface in the age of social media—a form of electronic communication that has typically been comfortable with its own vocabulary (like, retweet, follow). Preference for the term suggests an analogy to the give and take of radio communication. The fact that we subscribe to direct feeds of notable personalities—some of them updated on a minute-by-minute basis—suggests that there's an expectation that one be constantly willing to engage and communicate with the public and that we, the listener on the other end, are awaiting some kind of information on which we can act.
Radio silence can occur on a personal level as well:
Despite spending an hour together in the Oval Office last year, Rep. Elijah Cummings said Thursday he got "radio silence" from President Trump on a proposal they discussed to lower prescription drug prices.
— Nicole Gaudiano, USA Today, 10 May 2018

Later in the day, a few hours after the Prime Air promo video has been tweeted out by Jeff Bezos, an email from the Marketplace seller lands in my inbox. They blame their radio silence on being extra busy over the holiday period, and claim my delivery was made on December 9—a day when, incidentally, I was at home listening for the doorbell that was never rung by the delivery person who didn't turn up.
— Natasha Lomas, TechCrunch, 14 Dec. 2016

Text him twice because he's gone MIA and you'll most likely be rewarded with radio silence. But forget your BlackBerry at your apartment for the night and you'll probably come home to not one but two mushy voice mails from the dude.
— Robin Hilmantel, Cosmopolitan, May 2011
If radio silent is trying to tell us that its new meaning is here to stay, we hear it loud and clear.
Words We're Watching talks about words we are increasingly seeing in use but that have not yet met our criteria for entry.
---