Usage Notes
'Phone it in' vs. 'Dial it in'
Though the phrases sound similar, they have opposite meanings
---
If you're a sports fan, you might be familiar with the phrase dial it in. A favorite of athletes and sportswriters, it roughly means "to reach a state of peak focus, efficiency, or performance," as one Chicago-area high-school pitcher recently used it:
There were a little bit of nerves in the beginning there, but I was able to calm down and throw strikes after that ... I dialed it in and kept that until I came out of the game.
—Grant Brunt, in The Chicago Tribune, 30 May 2016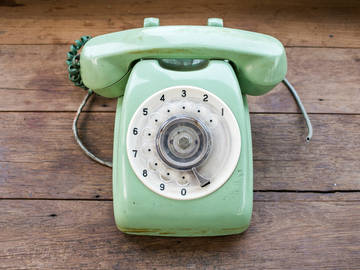 Dial in can be used as a transitive verb phrase as well:
Call it territorial instincts, but Federer would not go gently. He dialed in his serve and, after a 90-minute rain delay in the third set, won a riveting tiebreaker.
—L. Jon Wertheim, Sports Illustrated, 14-21 July 2008
There's also the adjectival phrase dialed in:
I'm not really sure what happened there, but it happened and I'll take responsibility for it ... I need to be more dialed in to what's going on around me and I wasn't in that situation and it happened. We need to be better there—I need to be better there.
—Scott Quessenberry, in the LA Daily News, 5 Sept. 2016
We see it a lot in music, too:
Sherwood has lived in Bellingham all of his life, has been at the helm of the Jazz Project for nearly two decades and has five years of throwing a late-summer jazz festival under his belt going into this year's event. I think it's safe to say he's got some things dialed in when it comes to knowing how to give the people what they want.
—Carey Ross, Cascadia Weekly (Bellingham, Wash.), 7 Sept. 2016
Where did this come from? Early usage of dialed in applied the term to the tuning of automobile engines. The Oxford English Dictionary cites a 1977 Indiana newspaper: "We put a new motor in (this week) and we're breaking it in right now. We're trying to get it dialed in. We're not pushing too hard."
It naturally became a comfortable term in the auto racing industry:
"Dialed in is one that comes from way back," Petty says. "It means getting the car perfect—you finally have the car exactly perfect."
—Bruce Martin, Auto Racing Digest, October/November 1989
Given that many of our idioms relating to dials—in particular, the broadcaster's warning don't touch that dial—have fallen into almost laughable irrelevance in an age of electronic interfaces, it is interesting that a phrase like dial it in has taken hold in modern usage.
It is also interesting that the term is essentially opposite in meaning to another similar-sounding phrase: phone it in.
To phone it in is to do something with low enthusiasm or effort. While the phrase may sound innocuous enough in an age when telecommuting and conference calls are common, it originates from the notion of someone who can't be bothered to show up when expected. It has a parallel in mail it in, another phrase suggesting the notion of communicating from afar rather than appearing in person (such as to give an interview).
Some early instances of phone it in treat the phrase in a literal way, suggesting that the person giving the half-hearted effort was away in another location (presumably home):
Accompanying this dreary exercise in self-exposure is a score of unmitigated blandness … The music is credited to Galt MacDermot, who must have phoned it in from Staten Island.
—Mel Gussow, New York Times, 15 Apr. 1981
That notion faded away eventually:
None of the big-name girls are here--not Linda or Naomi or Claudia--but it is the B, or non-name, models who are the most thrilling to look at. This is partly because the name models are phoning it in: Linda Evangelista, at the Givenchy show, had exactly the smug "I don't have to do this for a living anymore" look that Shecky Green and Buddy Hackett used to have when they "dropped in" on Merv Griffin.
Adam Gopnik, The New Yorker, 29 July 1996
But there's evidence that, despite their opposite meanings, some people may conflate dial it in with phone it in. And depending on when you grew up, and what kind of telephone you had in your house, it could be understandable.
Many generations ago, telephones had rotary dials. If you wanted to call someone, you had to enter that person's number by rotating the dial for each digit. Then you had to wait for the dial to reset before entering the next digit. And on and on until all of the digits were entered. It took eons.
So it shouldn't be surprising to see the occasional speaker, particularly one of a certain generation, associate dial it in with telephones and use it to mean phone it in:
By 1997, Limbaugh's shtick had worn thin. "A lot of people think Rush is tired of the show and dialing it in," says [Rob] Balon.
—Rebecca Piirto Heath, American Demographics, February 1998

"Peter really got involved in that album," [Charlie] Pickett remembers. "He didn't just show up; he didn't just dial it in. He got to the studio before we arrived and left when we left."
—Lee Zimmerman, Miami New Times, 2 Oct. 2008
So before you go fiddling with those knobs, be careful: Whether you're operating at maximum or minimum effort depends on what kind of dial you're using.
---