Usage Notes
On 'Palate,' 'Pallet,' and 'Palette'
A range of options for you to taste
---
What to Know

The word palate refers to the roof of the mouth, one's sense of taste, or a usually intellectual taste or liking. The word pallet means "a portable platform for handling, storing, or moving materials and packages." If you want the name of a thin oval or rectangular board or tablet that a painter holds and mixes pigments on, you want the word palette.
It is sometimes tricky to keep straight the three homophones palate, pallet, and palette.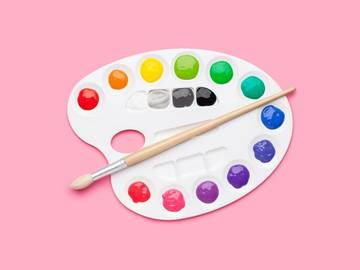 'Palate' Usage
The noun palate refers to the roof of the mouth. It consists of a hard part and a soft part and separates the mouth from the nasal cavity. You don't taste with the palate—you do that with your taste buds, located on the tongue—but palate has developed an extended sense referring to one's sense of taste or preference for certain tastes.
The flavor combinations in this creamy yet light soup are complex, but making it is very easy. Like the best appetizers, the soup wakes up the palate and is not too filling.
— Lesley Porcelli. Gourmet, November 2005
To cleanse the palate means "to clean and refresh the mouth before or after courses of a meal," and a palate cleanser is a food or course that provides that refreshing feeling.
Even I, for years, associated fennel seeds with the sweet digestif Indian restaurants serve as a palate cleanser at the end of meals.
— Anita Jaisinghani, The Houston Chronicle, 4 Mar. 2019
Palate cleanser can also be used with the extended meaning of something that provides a refreshingly different experience than that which came before it.
Most importantly, Far From Home brings back some of the charming teen drama that we saw in Homecoming. Tom Holland's Parker seems to be falling for Zendaya's MJ, and his antics with Jacob Batalon's Ned are as lovable as ever.
The same way Marvel paired Infinity War back-to-back with Ant-Man and the Wasp, this appears to be a great palate cleanser after the intense events of Endgame.
— Matt Miller, Esquire, 15 Jan. 2019
'Pallet' Usage
Pallet has two homographs in the dictionary. The first, deriving from Middle English, refers to a mattress filled with straw or a hard bed for sleeping. That sense is not related to the wooden platform used for storing and shipping cartons. That word is derived from the Middle French palette (literally, "small shovel").
But people got to work. Two forklifts soon created a smooth ballet, one taking a load from the truck while the other dropped off a pallet full of toys, switching places without missing a beat. A small army of volunteers would swarm a smaller truck until it was unloaded by hand, then move quickly to the next.
— Nina Culver, The Spokesman-Review (Spokane, Wash.), 11 Dec. 2019
'Palette' Usage
Palette refers to the board on which an artist keeps their paints. The traditional image of the palette is an oval wooden board with a hole for the thumb, allowing the weight of the board to rest on the artist's (non-painting) arm. This word derives from the same etymon as the "wooden shipping platform" sense of pallet.
Like palate, palette has branched off into figurative uses. It can refer to a range of colors available for use (an interior designer's palette) or a comparable range or selection of other things:
Musicians and their toys: Blake Mills, who has produced Fiona Apple, Alabama Shakes and John Legend and released albums on his own, grew fascinated by guitar synthesizers made by Roland in the late 1970s and used them to record a wordless, atmospheric EP, "Look." It's clear what drew him: a palette of sounds that can be orchestral and abstract but still controlled by a guitarist's human touch.
— Jon Pareles, Jon Caramanica and Giovanni Russonello, The New York Times, 30 Nov. 2018
Those other things can include a range of tastes or flavors, which might encourage confusion of the word with palate. To put it simply, if the word could be substituted with range, then palette is the best choice.
With such a broad palette of flavors, the restaurant can appeal to a variety of tastes. That's also true for hotel guests who aren't necessarily seeking an exciting dining experience.
— Katherine Hamilton, The East Bay Express (Oakland, Calif.), 24 Oct. 2018
---