Word History
Why Do We Call a Dangerous Person a 'Loose Cannon'?
Blame Teddy Roosevelt
---
A loose cannon is defined as "a dangerously uncontrollable person or thing." It is a phrase that comes up often during election cycles, as candidates try to paint each other as rash and impulsive decision-makers.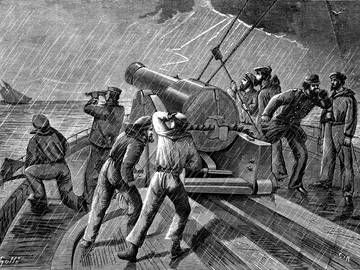 The current election cycle has been no exception. In May, after Donald Trump clinched the Republican nomination for President, Hillary Clinton remarked that "an unqualified loose cannon is within reach of the most powerful job in the world."
Then, on July 29, Trump returned fire:
Hillary Clinton should not be given national security briefings in that she is a lose cannon with extraordinarily bad judgement & insticts.

— Donald J. Trump (@realDonaldTrump) July 30, 2016
Loose cannon—that's how it's spelled—referred to an actual weapon before it entered the language as a metaphor. In the days before ships were equipped with fixed-turret guns, muzzle-loading cannons were mounted on wheels and rolled back and forth between gunports. A gun not properly secured could break loose either from the force of recoil or from the jostling of the vessel in choppy waters, presenting a hazard to sailors.
It's this loose cannon that President Theodore Roosevelt was probably thinking of when he borrowed the word to describe not a political opponent, but himself.
Shortly after ascending to the presidency, Roosevelt began to worry about his legacy. Knowing that he would be only fifty-one years old after two terms, and perhaps with a lot of energy left to burn, Roosevelt lamented with candor to his friend, the journalist William Allan White, that he "[didn't] want to be the old cannon loose on the deck in the storm."
Our earliest recorded use of the phrase loose cannon to mean "a dangerously uncontrollable person or thing" dates to 1973, in a memo sent to President Richard Nixon (later shared in Nixon's memoirs).
I have a note here saying, "the loose cannon has finally gone off," that's probably what could be said because that's what Magruder did when he went in and talked to the U.S. Attorney.
In 1987, Lt. Col. Oliver North used the phrase as part of his testimony in the Iran-Contra affair, returning the metaphor back to its naval origins in language that would seem comfortably familiar to a military officer:
I don't want you to think, counsel, that I went about this all on my own. I realize there's a lot of folks around that think there's a loose cannon on the gun deck at the NSC. That wasn't what I heard when I worked there.
The notion of keeping information under wraps, of course, is critical not only to political strategy but military tactics and national security. So calling a political opponent a loose cannon connotes not only that the person is a rash decision-maker, but a security risk as well.
---