---
Update: This word was added in April 2020.
Contactless has recently picked up buzz as "contactless" technology is increasingly being used to make payments.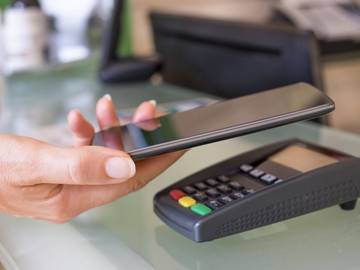 A contactless payment system uses radio-frequency identification (RFID) or near field communication (NFC) to transmit financial data stored on a microprocessor in a smartphone, smart card, or other device to an electronic reader at a point-of-sale terminal via radio waves. It's simple, elegant, and a little bit sci-fi.
As no direct contact with a machine or human is necessary in the transaction, contactless payment is a germophobe's ideal way to pay. No pressing of buttons that thousands of people have touched. No signing with a sticky pen or stylus. No taking back a credit card from that cashier who is definitely coming down with something. No more dirty money. The consumer simply places their smart device close to the reader and the tech takes care of the rest.
You will be able to easily load your credit card information onto your iPhone for purchases at any of the 220,000 locations that support contactless payment. You can simply place your finger on the fingerprint scanner on the iPhone 5S or 6 and hold your phone in front of the contactless payment scanner to authorize the purchase.
— Robert Patrick, The Press Enterprise (Riverside, California), 12 Oct. 2014

Contactless payment cards are not in wide circulation. Instead, consumers are increasingly making electronic payments with their cellular phones as banks, mobile phone providers and start-ups are offering competing applications to serve as the public's primary digital wallet.
— Chad Bray and Reuben Kyama, The New York Times, 2 Apr. 2014

Visa says it is planning to give $10,000 apiece to up to 50 restaurants and food vendors to pay for their technology and marketing costs, as long as the businesses pledge to start a "journey to cashless." Consumers at those stores would be able to pay for goods or services only with debit or credit cards or with their cellphones. In exchange, Visa is offering to pay for upgrades to merchants' technology at the checkout line so that they can accept contactless payments….
— Bill Hardekopf, Forbes.com, 14 July 2017
You may already see this technology in your own life: identification badges or key fobs that unlock doors, transponders that collect highway tolls, and prepaid cards for public transit fares are already in widespread use. The contactless payment terminal at retail stores, restaurants, and other commercial businesses is one in a line of innovations utilizing radio signals to make everyday activities smoother and virtually effortless.
As phones and tablets take an increased role in our lives, a cashless wallet may be the norm in the future. And perhaps even the wallet itself will become a thing of the past if ID cards and driver's licenses are superseded by contactless biometric systems. Advances in technology are already working on making that a reality. For instance, some airports are experimenting with biometrics to eliminate passport verification:
The Australian Department of Immigration and Border Protection (DIBP) has announced plans to [test] the first contactless system at arrivals in Canberra, later this year. The pioneering scheme will eliminate the need to show passports at manned desks, with fliers instead identified by contactless biometric systems that scan their face, fingerprints or irises.
— Naomi Leach, MailOnline, 23 Jan. 2017
So go on and meet the contactless future, clean hands and all.
---