Usage Notes
On 'Idyll' and 'Ideal'
Both might describe your country getaway, but in different ways
---
What to Know

Idyll refers to a work of prose that describes rustic or pastoral scenes. This is different from the adjective ideal whose meaning ranges from "perfectly suitable" to "exemplifying a standard of perfection." From "idyll" we get "idyllic" which means "pleasing in its natural simplicity" and for some idyllic scenes are ideal.
When something is described as idyllic, it's pleasing in its natural simplicity, much like a pastoral scene.
The Carman's River is an idyllic, sandy-bottomed stream with wild brook trout that flows in Southhaven County Park in Brookhaven, N.Y.
— The New York Times, 5 May 2002

The desirability of where you are depends on who you are. But the idyllic Paris of Henry James's The Ambassadors would be very appealing so long as I could have an independent income, a pair of mauve gloves, a parasol, and a secret lover.
— Margaret Atwood, in The Atlantic, September 2015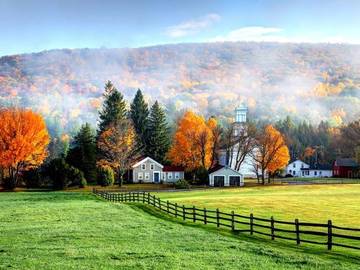 Idyll and Idyllic Meaning
Idyllic is based on the noun idyll, which is a short work of poetry or prose that describes rustic life or pastoral scenes, or it can be a narrative poem that treats an epic, romantic, or tragic theme. The latter sense applies in the title of Alfred, Lord Tennyson's Idylls of the King, a retelling of the King Arthur legend by way of a collection of twelve poems.
The Hawaiian literary community was desperately searching for a local voice to speak for the islands, to correct the idylls of outside writers from Twain to Michener, and Yamanaka showed all the signs of becoming that voice.
— Jamie James, The Atlantic, February 1999

She thought they should get some chickens of their own and perhaps a goat to milk, because maybe something was missing- maybe it would just take one fat white wyandotte to make the idyll possible.
— Kate Atkinson, Case Histories, 2004
Ideal Meaning
Idyll sounds very much like our more common adjective ideal, which is related to the noun idea. Something that is ideal is perfectly suitable, or it literally adheres to the idea of what is beautiful or excellent.
The soil, dense, clayey, and rich in limestone, is ideal for pasturing livestock and for the cultivation of oats, wheat, rye, and hemp-as well as grapes.
— Kathryn Harrison, Joan of Arc: A Life Transfigured, 2014

This historic trail continues to follow along its banks lined with old growth trees which offer an ideal setting for trout fishing.
— The Sierra Star (Oakhurst, Calif.), 24 Apr. 2018
Ideal can also be a noun for anything that exemplifies a standard of perfection, beauty, or excellence:
The replacement of old-fashioned family-style meals with elaborate multicourse service … served a Victorian ideal of purity, too, since etiquette frowned upon mixing different kinds of food on one implement.
— Douglas Brenner, Gourmet, November 2005
Usage Together
Maybe due to the fact that people often find rustic or pastoral scenes very desirable in their simplicity, one might, on occasion, be tempted to confuse idyll with ideal. But the confusion doesn't show up frequently in these words. Sometimes, however, an author might juxtapose them, creating the impression that they are related:
She was for him the centre of everything. His love was strong, pure, and idyllic--the ideal love of which the loftiest poets sing.
— Lucy Maud Montgomery, "The Story of Uncle Dick," 1906
Perhaps more revealing is the occasionally seen use of the mashup adjective idealic to echo idyllic, with a meaning that in some instances approach "ideal" but in others "suggestive of an idyll."
The hourlong episode "Amarsi Un Po" shows Dev and Francesca reuniting while she's visiting New York with her fiancé, and the two share a series of special moments. Their idealic, fairytale romance even gets a soundtrack when Dev and Francesca dance to an Italian song in Master of None to keep entertained during a blizzard.
— Bustle, 12 May 2017

Kylie Jenner looked beautiful with no makeup on holding baby Stormi on her idealic holiday in Turks and Caicos.
— The Daily Mail, 3 May 2018
Sometimes what might have been uttered as idyllic gets transcribed as idealic:
He moved to the village of Grogan's Mill to get away from the fast-paced life in the city and live a life of solitude among the trees. He even boasts about the 50 trees on his property.

"That's why I moved here. It was idealic at that point," Cunningham said. "There was nobody within 80 yards."
— The Houston Chronicle, 11 May 2016
The writers here are almost certainly thinking of idyllic but are probably influenced by the notion that the romance or vacation in question meets one's idea of a perfect example of those things. A more common adjective related to ideal is idealistic, which means "pertaining to one who is guided by ideals often at the expense of practical considerations," and which describes us when we imagine everyone on the Internet living in idyllic harmony after reading our usage advice.
---