Words at Play
Here's How Lexicographers Like to Party
Expect Middle English Chitchat, Purple Hair, and Lots of Bowties
---
On a recent June weekend, one hundred and fifty academics, lexicographers, and intellectual gadflies gathered at the University of British Columbia to talk about language and dictionaries. The Dictionary Society of North America was having its twentieth biennial meeting, and the arrival of its members in Vancouver had produced in that city a statistically improbable spike in the number of bowties.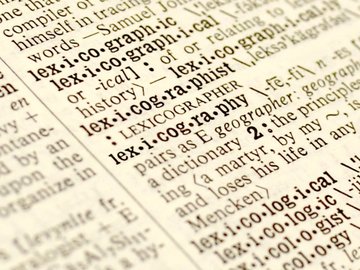 The conference attendees looked slightly out of place at UBC. The campus, a sprawling three-thousand acres, is liberally dotted with pine trees, brutalist architecture, and ostentatiously healthy young men wearing many tattoos and little clothing. The dictionary people were easily distinguishable from the locals, both by their dress and their conversation. Here are some highlights of the latter:
Small Talk
"Do you guys use the pulmonic ingressive in Stockholm?" a young woman with purple hair asked the bearded man sitting across from her.
He responded with a sharp, brisk inhalation through clenched teeth. The purple-haired woman smiled brightly and nodded.
This sort of exchange passes as polite small talk among the lexicographic.
(For those unfamiliar with the semantic content of inhalations, the pulmonic ingressive refers to the creation of language units by making a sound while breathing air into the lungs. English speakers may use this type of sound – essentially hissing while inhaling through clenched teeth – to mean anything from 'that is a paper cut' to 'the bank is foreclosing on the farm'. The pulmonic ingressor in this case was inhaling in Swedish, in which language it means 'yes'.)
Data Insights
A brace of editors from the website Dictionary.com showed that they could determine from search queries for four oddly specific words at back-to-school time in the fall – enmity, decorous, bastion, and hiatus – that Lord of the Flies is still a stalwart of high-school English syllabi. (Notably, these four words from the opening chapter seem to be the only words from that book the readers look up, implying that the young scholars' exploration of William Golding is short-lived.)
Inside Jokes
This was a setting in which people talked about the virtues of differing coding languages, and also where the comment "Hardly anyone will read the Cursor Mundi without being paid" elicited a full-throated round of laughter from the room. There are a small number of people left in the world who have more than a nodding acquaintance with the Cursor Mundi, an exceedingly long Middle English poem. Of that number it is unlikely that more than a hundred or so would find the preceding statement amusing. And most of those people were in this room.
The presenters were not exempt from having their own language use examined. One attendee noted the uptick in sentence-initial so by speakers (presenters often responded to a question by exclaiming "So!" before giving their answer) and wondered whether this usage was on the rise. The theory was in play for under three seconds before being volleyed by Steve Kleinedler, the goateed and khaki-clad editor-in-chief of the American Heritage Dictionary: "It reminds me of hwæt."  Kory Stamper, an editor at Merriam-Webster and possessor of the aforementioned purple hair, caught the reference – to the opening word of Beowulf, often translated from Old English as 'listen', or 'lo' – and responded with "I blame Seamus Heaney," indicating the translation of hwæt as 'so' by Heaney in his 2000 edition of that epic poem. Another voice added, cryptically, "You can always blame Seamus Heaney."
Optimism
One academic's inclination to blame Heaney for the world's ills notwithstanding, there was a marked lack of finger-pointing at the conference. Lexicographers today are generally loath to engage in pronouncements of gloom and doom regarding the English language.
It is perhaps the lexicographers' combined love of the new and the old that will save the profession from obsolescence. They are enchanted when a word begins to be used in a new fashion, and rush to adopt any technology that will afford them a greater understanding of how language works. But in addition to neophilia, dictionary makers tend to have an abiding interest in where the language has come from. These traits complement each other quite nicely; the ability to write code and to read Middle English are both useful when compiling a dictionary.
Entertainment
At the penultimate evening banquet, The Catchwords, an a cappella group of lexicographers, regaled the crowd with song. "We're poor little lexemes, who have gone astray, lexicographers off on a spree, damned from here to eternity..." Orion Montoya, a dark-haired computational lexicographer armed with a mandolin, closed the night with a paean to the joys and trials of dictionary work, sung to the tune of Françoise Hardy's 1962 song, Tous les garçons et les filles:
"Twentieth century lexicographical theory can get you confused,
Wittgenstein says do not ask a word's meaning, instead you should ask how it's used,
But his logical and philosophical tracts had us scratching our heads, looking for a direction..."
— Ammon Shea
---