Words at Play
Honeymoons, Babymoons, and Other Moons
Why Do Some Come Before the Event, and Some After?
---
"They were marryed: well that daye was past with dauncing and Honney moone it was for a moneth after." This 1592 passage from "Greenes vision: written at the instant of his death" gives a lovely etymological picture of the word honeymoon: a compound of the English words "honey" and "moon," the honeymoon was so named from the idea that the earliest days of marriage are the sweetest.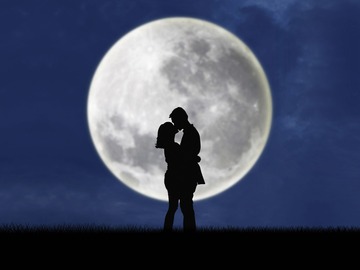 Honeymoon was used in its more figurative, original sense, during the 16th and 17th centuries. It wasn't until the late 1700s that is gained the sense we most commonly associate with it now: "a trip or vacation taken by a newly married couple."
This later sense of honeymoon gave rise to a few other "moons," including the modern buddymoon (taking your friends with you on your honeymoon) and babymoon, which we just entered into our Unabridged Dictionary. Babymoon, a blend of "baby" and the "-moon" in honeymoon, was first used in the early 1990s to refer to a period of time for parents to spend alone with their new child soon after the child's birth. But influenced by the "trip" sense of honeymoon, it soon gained another meaning: "a trip or vacation taken by a couple shortly before the birth of a child." That's right, before. Evidently the sweetest days of new parenthood happen before the baby arrives.
---