Words We're Watching
'Golden Ticket': A Word of Pure Imagination
An everlasting gobstopper of a word
---
Update: This word was added in April 2019
If you had any engagement with pop culture in your childhood, golden ticket is probably a term whose origin you don't need explained. It describes something, usually unexpected, that can lead to opportunity or fortune for a select recipient.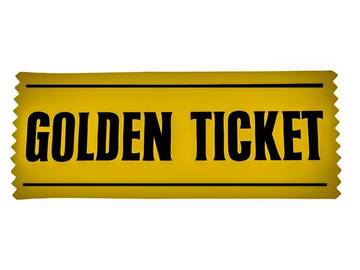 For the woefully uninitiated: the phrase alludes to the plot of Roald Dahl's 1964 novel Charlie and the Chocolate Factory, in which Willy Wonka, the founder of a world-renowned chocolate factory, offers a contest to children in which five golden tickets are distributed inside packages of Wonka chocolate bars. The prize for those who find the tickets includes a lifetime's supply of chocolate and a tour of Wonka's factory, the contents of which have heretofore been an object of mystery to the public.
She was sitting between her beaming father and mother in the living room of their house, waving the Golden Ticket above her head, and grinning from ear to ear.
— Roald Dahl, Charlie and the Chocolate Factory, 1964
Those who haven't read the novel are still just as likely to know the story through its 1971 film adaptation starring Gene Wilder, which portrays the Wonka factory as a brightly colored wonderland of magic, whimsy, and dangerous temptation. (They may also know it from the 2005 version with Johnny Depp.)
The dictionary defines ticket in its figurative sense as "a means of access or passage," as in "education is the ticket to a good job," and many uses of golden ticket simply carry that notion a bit further. Gold, of course, is a valuable and glimmering metal, and the association of gold with luck and opportunity has been around since before the Gold Rush. An employee might be offered golden handcuffs as an inducement to stay with a company, or alternately, given the golden handshake (or, more dramatically, a golden parachute in the form of a generous severance package). And a gold mine can figuratively refer to a rich source of something desired, as in "a gold mine of information," a meaning that dates to the 17th century.
That association is likely why the phrase golden ticket, in its literal sense referring to an actual gold-colored slip redeemed for admittance, has a history of usage (albeit a thin one) that predates Dahl's novel:
For one dollar, a "Golden Ticket" can be obtained which will entitle the holder to attend every performance and rehearsal throughout the season.
— Music Journal, 1959
As children of Generation X who grew up with the novel (or with the Gene Wilder film) became adults, golden ticket began to see references in print and in quotations. Allusion to the phrase in the 1990s would usually be couched in an explanation tying back to the novel as a point of reference:
Meet Steve Wynn, Las Vegas' most celebrated resident, whose invitations to play his private golf course or attend the openings of his megaresorts are as coveted as golden tickets to Wonka's chocolate factory.
— Susan Greene, The Denver Post, 25 Oct. 1998

All agree that the show is a great opportunity for exposure. "I kept saying in the weeks that followed, it was like I got the golden ticket in 'Willy Wonka and the Chocolate Factory,"' says [Laurie] Geltman, who also plays Mama Kin Aug. 14.
— Sarah Rodman, The Boston Herald, 7 Aug. 1998
Later use of golden ticket has dropped the explanation, suggesting a common knowledge of the story and an agreement on the phrase's meaning:
Sharon Smith* is well aware that egg banking is not a golden ticket to motherhood at any age.
— Brian Alexander, Glamour, May 2004

At the time, Facebook's golden ticket was a college e-mail address. Today, the gates to the kingdom of Facebook have been flung wide open, and the online party has some 300 million users.
— Peter Daining, La Junta (Colorado) Tribune-Democrat, 20 Nov. 2009

The golden ticket represented by Amazon's plan to build a second headquarters in a still-to-be identified community in the United States could remake a local economy almost overnight.
— The Andover (Mass.) Townsman, 28 Sept. 2017
Now a golden ticket can refer to any kind of unexpected opportunity afforded to someone, whether it's a new job or a chance to own a factory with flavored wallpaper. But as the story reminds us, when you do uncover the golden ticket, don't let Slugworth see it. He would do anything to get his hands on it.
Words We're Watching talks about words we are increasingly seeing in use but that have not yet met our criteria for entry.
---