Words We're Watching
Words We're Watching: 'Fidget Spinner'
Will this new sense of the word 'fidget' outlast the fad?
---
In recent months the small whirling toy known as the fidget spinner has assumed a state of near-ubiquity, at least in any area with children of a certain age. After your mind goes through more pressing questions like, "How much would it hurt if an unruly child flung a fidget spinner at me?" you might have asked yourself "Where does the word fidget come from?" We can't help you answer the former, but we're all over the latter.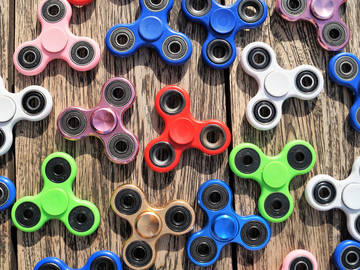 Fidget came into our language during the glory days of Early Modern English and is thought to have been adopted from the earlier dialect word fidge (which has a meaning similar to the verb sense of fidget). It's not entirely certain in which part of speech fidget was first used since the earliest known uses of each of several parts of speech are found close to each other.
He is a fidgeting, busie, dogmatical, hot-headed Fop, that speaks always in sentences and proverbs, (as others in similitudes) and he rails perpetually against the present government; his Wit lies in projects and monopolies, and penning speeches for young Parliament men.
—William Wycherley, Love in a Wood, 1672

Having thus far endeavour'd to reckon with the slow paced motion, and found, to our thinking, that 'tis a kind of thing that has got the fidget....
—Nathaniel Fairfax, A Treatise of the Bulk and Selvedge of the World Wherein the Greatness, Littleness, and Lastingness of Bodies are Freely Handled, 1674
There is considerably more evidence of fidget being used, in its early days, as a noun. The initial sense of the word was "the quality or state of being restless."
I beg you will let me know when you put it into rehearsal that I may come and see one or two of the most perfect, as I am sure I shall be in such a Fidget I shall not be able to resist coming to see my fate.
—William O'Brien, Letter, 31 Aug. 1772, (in Posthumous Letters, from Various Celebrated Men, 1820

"It put me in such a fidget, I could not eat my dinner for watching him, every time he helped anybody, and it required all my politeness to refrain from giving him a lesson at the moment."
"I remember, now, that I did see him push some of the potatoes out of the dish; but I looked another way, directly, for fear of embarrassing him."
—J. Farrar, The Young Lady's Friend, 1836
However, fidget also has been used to refer to a specific person ("one that exhibits or suffers from the fidgets"), rather than to a state.
The very best wax that for candles they use,
To light for St. Bridget;
Well, you are a fidget!
Dont't (sic) stand shivering agape,
Like a stultified ape!
—The Kishoge Papers, Michael Joseph Barry, 1875
In recent times we see fidget continuing to be used as a noun, but taking on an attributive role, in which it is used to modify another noun.
A sensory ball can be used as a fidget tool. You can pull on the ends, squeeze it, or run it up and down your arms and legs. This can also be used to help you relax when you're feeling anxious.
—Dorman, Lehsten, Woodin, Cohen, Schweitzer, et al., OT Practice, 23 Nov. 2009

Other elements include a triangular tension traverse, a "fidget ladder," a swing, a multi-line traverse and a zipline.
—George Basler, Press & Sun-Bulletin (Binghamton, NY), 7 Jun. 2009
For at least 20 years now, we have been using fidget in conjunction with toy, frequently in reference to the precursors of the spinning toys that have captured the hearts and minds of today's youth.
Klixx seem to be popular with both children and adults looking for a simple toy that can be held and manipulated in one's hands. For children, such items are called "fidget toys," while adults refer to them as "stress stoppers," Steen says. "You sit there and agitate yourself with them."
—Rick Karlin, Albany Times Union, 8 Jun. 1995
An additional use of the word has been cropping up, particularly in writing pertaining to children with developmental differences, in which fidget does not modify another word, and simply refers to a device which is intended to calm.
For a child with tactile difficulties, you may try having them wear different clothing textures, give deep pressure, follow a therapeutic brushing program, or give the child a fidget, or toy, during seated activities.
—Effects of Sensory Integration on Motor Development in K-3 Students with Autism (Masters thesis), Vrinda Murphy, 2009
Time will tell whether the new sense of the noun will take off, and gain widespread use sufficient to warrant inclusion in the entry for fidget. Words that are based on fads often have the same degree of longevity as do the fads themselves, but fidget when used in therapeutic jargon, would appear to have developed independently of the spinny finger thingamajigs. And before you start your angry comments, we know that's not the technical term for the device. But if kids can have fun with their fidget spinners we can have a little lexicographical fun too.
Words We're Watching talks about words we are increasingly seeing in use but that have not yet met our criteria for entry.
---