---
Downballot and downticket are two new words that describe running or voting for offices listed below the most important—typically national—race on a ballot. For instance, in a presidential election, Senate and House seats and contests for state and local offices are downballot (or downticket) because their outcomes are often influenced by the turnout for the presidential race at the top of the ballot.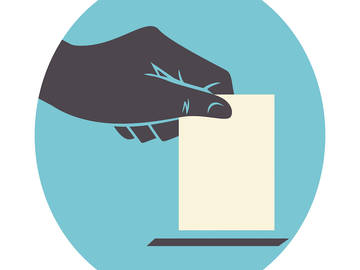 Both words began to appear in print in the early 1980s. They were preceded by adverbial phrases such as "down the ballot":
But in a district where the Republican and Democratic candidates for the United States House of Representatives complain that the voters confuse them with each other, does a candidate for the Legislature have to rely on the voter choosing a Presidential candidate and following that column—in this case, Ronald Reagan's—all the way down the ballot?
—The New York Times, 26 October 1980
Within a few years, both terms appeared:
A down-ballot race just does not attract the attention.
—Paris News (Texas), 25 April 1982

Running as a Republican in Mississippi, he knows the odds are against him even with a high turnout. "There's a lot of voter apathy" he said. "It's hard to get interest stirred up in the down-ticket races."
—The Clarion-Ledger (Jackson, Mississippi), 4 November 1983
As with many compounds, we see that the hyphens have largely been dropped and the words are now frequently styled as single words. A sign of the newness of downticket may be that The New York Times doesn't seem to allow it to be used by their writers and editors, but downballot was first used in The Times during coverage of the 2008 election.
"Downballot race" and "downticket candidate" are very common adjectival forms, but both words are also used as adverbs:
"What they view us as is a trusted validator on why they need to vote, why their engagement is important, why it's important to vote down-ticket," he said. "They're understanding the impact of politics in their everyday lives at the hyperlocal level" in terms of immediate needs like bus and train service and social services.
—Michael Moline, Florida Phoenix, 2 November 2020

This new reality has already taken over the presidential race and is starting to trickle down ballot, too. While President Donald Trump's approval rating has improved to 49%, the best of his presidency according to Gallup, Democrats have not gone quiet.
—Alex Rogers, CNN, 31 March 2020
Sometimes both the adjective and adverb are used in the same statement:
"We are asking our constituents to focus on downticket races," he said. "We will rally Christians all over the country to get to the polls and vote downticket."
—Paul Weber, quoted in Newsday, 24 June 2016
Downticket and downballot are used to describe both Democratic and Republican candidates and races:
A fiery former President Barack Obama campaigned for Joe Biden and down-ticket Democrats in Atlanta on Monday, slamming President Donald Trump and other Republicans for "empty promises" and selfish politics amid a growing coronavirus pandemic.
—Greg Bluestein, The Atlanta Journal-Constitution, 2 November 2020

"Four years ago, people forgot we had some pretty competitive down ballot races going down in the state and that obviously helps with turnout and helped with President Trump as well," he said.
— Lexi Vennetti, Indiana Public Media, 2 November 2020
In a contentious election year, it's good to know that something is perfectly bipartisan.
Words We're Watching talks about words we are increasingly seeing in use but that have not yet met our criteria for entry.
---