Word History
How Basketball Upsets Became 'Cinderellas'
A term that came from outta nowhere.
---
Cinderella is arguably the most iconic of fairy tales, an archetype of what is known as the rags-to-riches story. You know how it goes: living under the oppression of her evil stepmother, she finds her chance at happiness and fortune only after a fairy godmother makes her over for the royal ball, where she captures the attention of the prince. But she must run away before the spell wears off, leaving behind a glass slipper that the prince uses to identify her.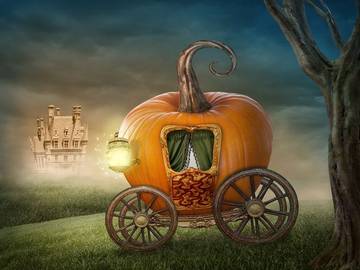 As a folk tale, the story of Cinderella dates back centuries, but for the familiar version of the modern tale, we can thank the 17th-century French author Charles Perrault (1628-1703), who published the story as Cendrillon in 1697. Perrault borrowed his title from Cenerentola—from cenere, the Italian word for "ash" or "cinder"—published by the Neapolitan author Giambattista Basile about sixty years before. The brothers Grimm subsequently translated the name as Aschenputtel for their collection in 1812.
Cinderella's name reflects the ashes with which her clothes were sullied as she did housework, as well as the fact that, in many versions of the story, she is compelled to sleep near the fireplace to keep warm. Leveled by her stepsisters, the name is intended to be an insult and a reminder of her low standing.
Cinderella's unlikely rise is not unusual for a fairy tale, but its rendering of a literal rising from the ashes makes it a handy metaphor for writers and commentators looking for a label for one who has overcome unlikely odds in order to succeed.
In A Shabby Genteel Story (1840), by William Makepeace Thackeray, a character alludes to the story when he announces plans to woo the overlooked daughter of a family: "…a family Cinderella, who shall, I am determined, make her sisters crever [=burst] with envy."
Sportswriters, perpetually trying to establish a narrative pitting favorites against determined underdogs, took a liking to Cinderella story and related phrases in the early 20th century. In the 1930s, the sportswriter Damon Runyon gave the nickname "Cinderella Man" to boxer James J. Braddock, whose unlikely rise culminated in Braddock's defeat of Max Baer to become heavyweight champion in 1935:
The fistic fairy tale comes true. James J. Braddock, of New Jersey, "the Cinderella Man" of pugilism, is the new heavy-weight champion of the world.
— Damon Runyon, The New York American, 14 June 1935
The title Cinderella Man was later used for Ron Howard's 2005 biopic of Braddock. It's now common to see Cinderella applied to any athlete or team that achieves unlikely stardom:
Suddenly, the Kurt Warner story is not so warm, not so fuzzy. Warner, the Cinderella quarterback who went on to become the league and Super Bowl MVP last season, could be a holdout when the Rams report to training camp next month.
— Peter King, Sports Illustrated, 12 June 2000
The term got the Hollywood treatment when Bill Murray used it in a famous quote from Caddyshack (1980):
Cinderella story. Outta nowhere. A former greenskeeper, now, about to become the Masters champion. It looks like a mirac... It's in the hole! It's in the hole! It's in the hole!
Nowadays, we might hear Cinderella spoken of frequently during March Madness, as the single-elimination bracket format of the annual NCAA basketball tournament gives a lower-ranked team a fair chance to upset a higher-ranked team with a single victory. (The analogy to Cinderella is sometimes extended in these contexts, as teams that end up losing in later rounds are said to turn into "pumpkins," an allusion to the coach that transforms back into a gourd at midnight in the story.)
If you're not watching the UMBC Virginia game, you are missing the biggest Cinderella story since, well, Cinderella #MarchMadness

— Dan Rather (@DanRather) March 17, 2018
As for Gonzaga, which reached the Elite Eight a year ago and returned to the Sweet 16 last week by bouncing second-seeded St. John's, Bulldogs forward Casey Calvary said it best: "If anybody thinks we're still a Cinderella, they don't know a damn thing about basketball."
— Alexander Wolff, Sports Illustrated, 27 Mar. 2000
We don't doubt that Cinderella can knock off a number one seed, but can only imagine how hard it is to rebound in glass slippers.
MORE TO EXPLORE: 10 Words From Basketball
---