Word History
Rhapsodizing About 'Bohemian'
Is it real life, or just fantasy?
---
In modern use as an adjective and noun, bohemian describes someone (such as a writer or artist) who lives an unconventional lifestyle usually as part of a small community.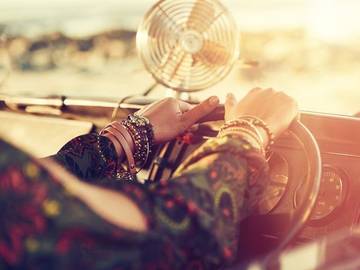 Nadia Volvokov (a spectacular Natasha Lyonne, wearing so much kohl eyeliner that it's almost a special effect) is washing her hands in the bathroom at her thirty-sixth-birthday party. It's a dirty-cool bohemian bash thrown by her friends Maxine and Lizzy, whose loft, in Alphabet City, used to be a yeshiva. In the kitchen, Maxine offers Nadia a joint: "It's laced with cocaine, like the Israelis do it!"
— Emily Nussbaum, The New Yorker, 4 Feb. 2018

Further proof: the London building where she and her staff of 15 have worked since 2016, in the formerly bohemian Shoreditch neighborhood. The vertiginously thin, four-story, 1,800-square-foot Victorian townhouse had been a downtrodden squat; the landlord offered a reduced rent with a four-year lease.
— Nancy Hass, T: The New York Times Style Magazine, 7 Feb. 2019

Is it still possible to be a bohemian in today's New York City, where average rents now surpass $3,000 a month? Or are the rents just too damn high? And--if they are--what does this mean for the future of artists and intellectuals of the sort who have long been as much a part of the natural order of the city as pigeons and locust trees?
— Garance Franke-Ruta, The Atlantic, 7 Feb. 2013

At Bar Straf, just off the western arm of the 19th-century glass-ceilinged Galleria Vittorio Emanuele II, the small, polished-concrete interior, low sofas, and dark ambiance attract a mixed clientele of bohemians and young businessmen in narrowly cut suits.
— Christian L. Wright, Gourmet, January 2007
And bohemianism is the term for the unconventional lifestyle of urban artists:
Like many bands, here, Arcade Fire reflect the diversity of their adopted city (other members hail from Texas, Ontario, and British Columbia). Montreal has long attracted nomadic twenty-somethings with its cheap rents and sin-city bohemianism.
— Adam Leith Goliner, Gourmet, March 2006
Bohemia is the largest and westernmost region of the Czech Republic, which is also made up of Moravia and the southern tip of Silesia. Bohemia was formerly its own kingdom in the Holy Roman Empire and subsequently a province in the Habsburgs' Austrian Empire. It is a mostly mountainous area that contains the national capital of Prague.
The name Bohemia comes from the Boii, a Celtic people from transalpine Gaul who inhabited the area in the 2nd century B.C.E. before they were chased out by the Roman army. The Slavic ethnic group that occupied this region in the 6th or 7th century A.D. was known as the Czechs, who later lent their name to the nation of Czechoslovakia and, after that country's split in 1993, the Czech Republic.
So how did Bohemia get its reputation as a birthplace for writers and artists and those with unconventional pursuits? While the region does have its own artistic tradition—it's where the polka originated, and Prague was the birthplace of Rainer Maria Rilke and Franz Kafka—as a label it came about as a bit of a misnomer, and despite Bohemia being a part of the former Czechoslovakia, we can attribute the modern sense of Bohemian to the French.
Bohémien was the name bestowed by French speakers upon Roma people and others who lived among them in lower-rent districts of Paris and other cities on the belief that they had originated from the Bohemia region. Their embrace of the arts at the expense of comfort, and without concern for appearances, made them a subject of curiosity and often disdain. But the Bohemian lifestyle came to be romanticized by writers such as Victor Hugo and Honoré de Balzac, and later celebrated as Bohemian fashions were adopted and artists flourished through Europe's Romantic period in the 19th century.
Giacomo Puccini's opera La Bohème (1896) concerns a circle of young artists living in Paris's Latin Quarter in the 1840s and is based on another work of fiction, Scènes de la vie de bohème (1851) by the French writer Henri Murger, which was inspired by Murger's own life and those of his fellow artists. Jonathan Larson's modern rock opera Rent (1996) reimagines Puccini's work using a circle of struggling artists in New York City, and features "La Vie Bohème" as one of its more popular songs.
The word boho is sometimes used as a short form for the modern sense of the word, and the journalist David Brooks coined the word bobo (for "bourgeois bohemian") to describe a person of relative affluence who pursues a lifestyle devoted to artistic pleasures.
And of course, we would be remiss if we didn't mention Queen's rock anthem "Bohemian Rhapsody," the lyrics of which describe a young man confessing to a killing, but whose title offers self-conscious comment on the rock lifestyle. Mama mia.
---