---
Your local salon probably has a bounty of tonsorial options to choose from, and they all sound like something you'd find at a car detailing business: highlights, lowlights, frosting, chunking, foils, gloss, single-process, double-process. But for those who want the latest yet enduring Continental take, there is balayage.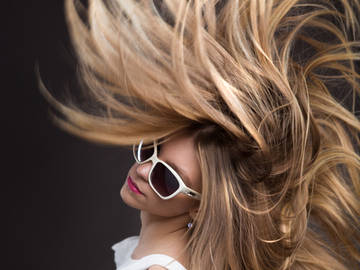 Balayage is a technique for highlighting hair in which the colorist paints color onto a person's hair freehand, using long, sweeping strokes. When done properly, it results in a more natural look, and it's one of the hottest trends in hair color, according to those who know hair color trends.
But a hot trend is not necessarily a new trend. Our first public and written instances of the word balayage to refer to this type of color treatment go back to the early 1970s. These first citations also helpfully etymologize balayage for the reader:
Know about "Balayage" (a French word meaning "Sweeping") and, how to "sweep" or paint color on your hair to achieve a totally new look.
— salon advertisement, The Robesonian (Lumberton, NC), 1 Apr. 1973
Balayage is indeed a French word that means "sweeping." The technique was developed in France in the 1970s and called balayage because of the long, sweeping strokes used to apply the lightener or color to hair. It was a hit, and was immediately brought to the U.S.:
The shop has imported a young man named Yvan from the Carita salon in Paris to do what he calls a "balayage au cotton."
— Angela Taylor, The New York Times New Service, 4 Apr. 1974
While it was all the rage during the 1970s, the word balayage didn't have nearly as much print use through the 1980s and 1990s. But it was rediscovered about ten years ago, and has once again become (one of) the rage(s). In spite of its long history, however, the word balayage still isn't that familiar to people: much of our citational evidence for the word is in contexts where it is still explained to the reader, signaling to the lexicographer that it hasn't quite settled into the lexicon yet.
Words We're Watching talks about words we are increasingly seeing in use but that have not yet met our criteria for entry.
---