Word History
Ah, 'Romance': A Word Borne to English on the Breastplates of Chivalry
The true and lovesome history of 'romance'
---
The story of the word romance begins as the fifth century is coming to a close, and the Roman Empire with it. The story's key players are the inhabitants of Gaul, a region comprising modern-day France and parts of Belgium, western Germany, and northern Italy—a region one British isle short of the western reaches of the Roman Empire. The Gauls speak a Latin-derived language that we now call Gallo-Romance, but that the Gauls themselves refer to as Romanus, from the Latin word meaning "Rome" or "Roman."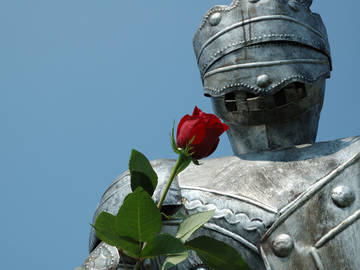 By century's close, the Gauls have been overwhelmed by the Franks and other Germanic peoples, and the Roman Empire has fallen to usher in the Middle Ages. The influence of the Latin language, however, remains very much alive. A Latin adverb Romanice, a derivative of Romanus, emerges with the meaning "in the vernacular," alluding to the languages that had developed out of Gallo-Romance, namely Old French and Old Occitan. What is spoken Romanice, or "in the vernacular," is decidedly not Latin, which is what was spoken in the church and in most formal writing.
In Old French, the Latin Romanice is adapted as romans or romanz. The new word is a noun, and it refers not only to Old French itself but also to works composed in it. It's the Middle Ages now, and the romans/romanz composed are often narratives written in verse and chronicling—what else?— the affections and adventures of gallant and honorable knights. Romans/romanz takes on a meaning referring specifically to metrical treatments of the love and times of the chivalrous, and the fate of the Modern English word romance is sealed: its close association with tales of love join it forever to love stories, both true and merely dreamt of.
Romance is of course also associated with languages. That use was sealed a bit earlier, back when the noun referred to Old French; the term Romance language now refers to a number of languages that developed from Latin, including French, Italian, and Spanish.
MORE TO EXPLORE: 12 Words and Phrases for Romantic Relationships
---