Words We're Watching
-Zilla
The suffix from the Japanese monster movie gives rise to a host of new words
---
Godzilla, king of the monsters, made his big screen debut in a 1954 Japanese film directed by Ishirō Honda. The success of that first movie inspired an onslaught of sequels pitting Godzilla against a host of foes: giant moths, robots, space beasts, all of humanity.
Eventually Godzilla would even come for the English language itself.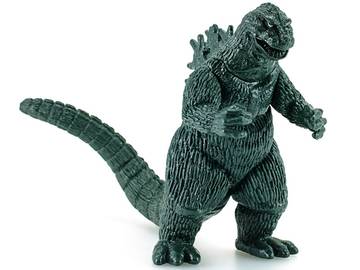 We're talking, of course, about the practice of creating new nouns by attaching the tail end of the word Godzilla to an existing noun. (And we should note that the monster is actually Gojira in the original Japanese; Godzilla is the anglicized version.) The -zilla suffix has come to indicate a particularly strong or large example of its variety. A fine case of this is found in what is perhaps the first widespread attempt to lexicalize –zilla: the Sears Roebuck garbage bag, Bagzilla.
Sears began marketing its trademarked Bagzilla in 1977. Just in case anyone didn't make the connection, Sears made sure to add a picture of a large, upright lizard creature to ads for the garbage bag. The monster was often shown helping with some chore or other, such as piling leaves into the bag. Toho, the Japanese studio that owned the rights to the Godzilla franchise, was not amused by this linguistic homage. They sued Sears unsuccessfully.
Other –zilla words, such as hogzilla, began to appear in the late 1970s. It has since been attached to all manner of nouns both concrete and abstract—for example, fedzilla (the federal government, seen as an enormous and rapacious predator) and wimpzilla (a theoretical particle of extremely heavy dark matter). The suffix is frequently found attached to a word in jest, as with the hashtag #snowzilla used on Twitter during large snowstorms.
What is probably the most successful of the –zilla words is also the one which has deviated the most from the usual meaning of 'large, impressive in strength,' and that is the bridezilla. Bridezilla has been in use since 1995, and typically refers to a woman who is so obsessed with the details of her upcoming nuptials that she is intolerable to be around (the word also has a less-common variant: the groomzilla).
If you would like to use any of these words, you should be free from litigation. Tweet away about bridezillas, snowzillas, or any other kind of -zilla you'd like; as long as you don't try to make money by using the suffix with a picture of a large lizard nearby there is very little chance you will be sued.
Words We're Watching talks about words we are increasingly seeing in use but that have not yet met our criteria for entry.
---