How to 'Zhuzh' Up Your Vocabulary
Kick it up a notch.
In February 2018, Netflix launched a reboot of Queer Eye, the former Bravo series in which five gay men perform a makeover of a fellow needing help in the areas of fashion, grooming, living space, food, and social grace. The original series aired from 2003 to 2007 and made stars of its "Fab Five," while bringing the term metrosexual into the lexicon from its use by critics.
Another term that the show brought into the fold was one that didn't initially see a lot of print use, possibly because editors didn't know how to spell it: zhuzh, or zhoosh, or tzhuj. (The first two seem to have gained the most traction.)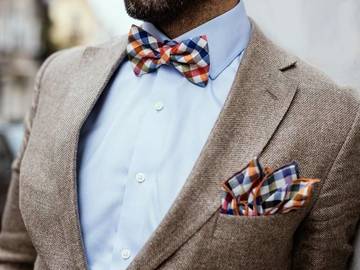 A go-to word for Queer Eye's original fashion guru, Carson Kressley, zhuzh describes the act of making slight improvements or accents to a wardrobe or look (such as by adding a pocket square, teasing one's hair, or popping a shirt collar).
So many women were coming up to me asking, "How do I look?" or "Can you just zhuzh me?" or "What should I wear?" And I'd say, "Well, I'm trying to pay for my ice cream right now, but I can give you a couple quick tips."
— Carson Kressley, in Main Line Today, 5 Apr. 2017
The new Queer Eye team doesn't use the term so much, but those who remember the old show fondly still do, both as a noun and a verb (sometimes with up). In general use, the word has transcended fashion to mean something along the lines of "a slight improvement or adjustment" or "to improve in appearance by way of a slight adjustment":
The reboot is fine company in several contexts, for instance, when it is lending ambient zhuzh to your home while you're picking up around the place. Half-watching any of its eight episodes, the viewer feels its aspirational anima infuse the room.
— Troy Patterson, The New Yorker, 26 Feb. 2018

Recently, we told you about seven easy under-$20 ways to upgrade your space, and now, we're turning our attention to easy décor improvements. Fiona Byrne, an editor turned interior decorator who recently zhuzhed up spaces for Montauk's Surf Lodge, tells us her eight favorite ways to kick up an apartment.
— New York Magazine, 31 Oct. 2017

Summer is the season of laid-back hairstyles that need nothing more than a spritz of salt spray and a maybe a quick zhuzh before heading out the door.
— Samantha Sasso, Refinery29, 5 Dec. 2017

Fellow celebrity hairstylist Chad Wood recently mentioned he loves to use pomade to zhuzh up second-day curls, and if it can give Bellisario results, pomade is firmly on the shopping list.
— Rachel Nussbaum, Glamour, 20 July 2017

Fallon and his writers' greatest innovation to the format was to zhuzh up the guest segments into participatory "games" — like the absurdist physical-comedy bits from Late Night With David Letterman, but with their underlying sense of subversion surgically removed.
— Alison Herman, The Ringer, 12 Feb. 2018
Pronounced \ZHOOZH (with the "OO" as in "good")\, zhuzh sounds onomatopoetic, with a resemblance to other sound-effect words, such as whoosh or zoom, that suggest dynamic movement, or perhaps more appropriately, a ruffling of hair or fabric. Some attribute the word to Polari, a kind of slang used in the British underground performing arts as well as the gay subculture; the OED cites use (with the spelling zhoosh) that dates to 1977.
Kressley told the Sydney Morning Herald in 2004 that he learned the term while working for the clothing designer Ralph Lauren.
Only time will tell if zhuzh establishes itself enough to officially add an accent to our famously unkempt language. We'll keep taking citations, though it may take more than a slight ruffle to make English presentable for polite society.
Update: This word was added in September 2023.
Words We're Watching talks about words we are increasingly seeing in use but that have not yet met our criteria for entry.