The rise of the 'promposal'
The most important decision you will ever make. Or not.
The teenage rite of passage known as prom (short for promenade meaning "a ceremonious opening of a formal ball consisting of a grand march of all the guests") began in the late 1800's as a formal dinner held by American colleges and universities in the northeast to teach the graduating class etiquette before students set off into the world. Some high schools began to adopt the tradition around the turn of the century, and by 1950 it was the norm in American high schools. These days the prom has become somewhat of a competitive sport with students and even schools competing to have the best venue, attire, transportation, and, in recent years, the best invitation.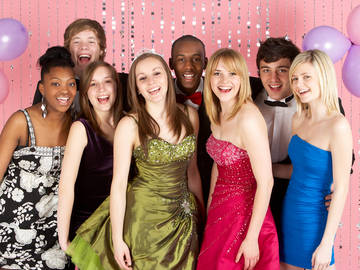 Asking someone to prom is almost as old as prom itself, but as the act of asking grows more and more elaborate the phrase "asking someone to prom" is no longer sufficient. The portmanteau from prom and proposal is a fairly recent creation apparently only dating back to 2011, and it's a fun new word used to refer to the surprising ways people are asking dates to prom.
Lam says the "prom-posal" is a really big deal at UTS. "Guys will do it onstage at assembly, or write it on a cake."
—Leanne Delap, Toronto Star (Toronto, Ontario), 28 Apr. 2011

Prom isn't just about the dress, flowers and cool ride. Promgoers are upping the ante when it comes to securing a date to the prom. A lifeguard at a pool, Marisa Hahn was surprised by a floating "promposal." Hahn's boyfriend enlisted the help of friends, who assembled in the pool below the lifeguard's chair with pool noodles fashioned into "prom?"
—The Independent (Massillon, Ohio), 28 Mar. 2014
So what makes asking someone to prom a promposal? You can ask someone to prom by presenting them with flowers and saying "Will you go to prom with me?" but a promposal often involves a little something more, and usually includes a special or elaborate act or presentation that took some thought and time to prepare. A promposal can be as simple as giving your intended date a giant cookie that reads "Prom?" or as over-the-top as jumping out of a plane holding a sign that reads "I'm Falling 4 U, PROM?"
It seems that proms are becoming special again, and the biggest sign of this is the "promposal." A promposal—if you don't know—is a very special prom invitation. . . . [T]hese elaborately popped questions are dead romantic and can be kind of expensive, too. They typically involve things like rose petal trails and rented Cessnas, plus a ton of adolescent male ingenuity. They are proof that chivalry abides.
—Cynthia Macdonald, The Huffington Post, 31 May 2011
The noun promposal is the most common use, but there is a sprinkling of verb use showing up as well, which is a promising sign for the word's longevity.
"One night I brought her to my house," he said. "Earlier, I had set up a couple hundred candles in my garage and had spelled out the word 'Prom?' There were flowers, too." She said yes, because how could you say no to Connor Jolley? King of candles. Prince of prom-posing.
—Chris Peters, Omaha World-Herald, 2 May 2017
There has been a steady increase of use over the last several years, so we're definitely keeping our eyes on this one.
Words We're Watching talks about words we are increasingly seeing in use but that have not yet met our criteria for entry.