Words We're Watching: 'Lewk'
Feeling cute, might delete later.
Update: This word was added in September 2022.
It seems like everybody these days is talking about their lewk.
Looking to give your kitchen a new lewk? Well Bobby has the perfect #QEHIPTIP for you! pic.twitter.com/67gqUNMRjs

— Queer Eye (@QueerEye) May 20, 2019
https://twitter.com/eliza_relman/status/1080893605559062528
Category Is: Weird Science 👩‍🔬👽

Whose lewk was your fave? #DragRaceUK pic.twitter.com/k7irZknA9d

— RuPaul's Drag Race (@RuPaulsDragRace) November 2, 2019
Thank you for this #MTVEMA LEWK, @halsey! Can't wait to see you perform tonight at 9p on MTV! 💖 pic.twitter.com/5tG2fVqpNA

— MTV (@MTV) November 3, 2019
Lewk takes the common word look and tweaks the spelling to encourage a pronunciation closer to the man's name Luke. (There's not much precedent for phonetic comparison, however; the only word ending in –ewk in Merriam-Webster Unabridged is Beetewk, a Russian breed of draft horse.)
Fashion Slang
In the world of fashion, a lewk is more than just a look, but a style unique to the person sporting it.
To use the term of art, a lewk is a personal style signature so individual it's almost indivisible from you. It connotes something noticeable: wearing jeans every day isn't a lewk, but wearing a Schiaparelli lobster hat might be. It might be something you wear every day, but is not the same thing as a uniform. It's not about saving time and brainpower by cutting out frivolity; it's about embracing a particular brand of it, one that is yours alone. Think Jenna Lyons in her oversize glasses, Tom Wolfe in his crisp ice-cream suits, and Anna Wintour in a printed (usually Prada) dress, a crystal necklace, and the Manolo Blahnik tan slingbacks she's worn since 1994.
— Véronique Hyland, The Cut, 6 Jan. 2015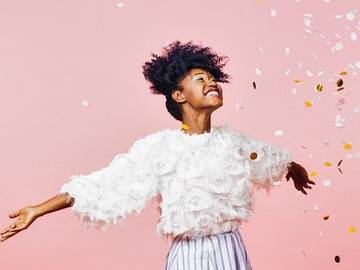 The alteration of a vowel spelling to reflect an accent, dialect, or manner of speaking is not unusual. Think of hoss for horse in works by writers such as Zane Grey or Mark Twain, to reflect the speech of characters from the Old West or the Mississippi Plain. In more modern examples, you might see dog altered as dawg or hot as hawt in song titles or other contexts that present opportunities to exaggerate pronunciation for effect.
Lewk as altered form of look shows a history of use in writing that emphasizes a particular dialect:
"Now lewk here, Black," Sam said at last. "No man can say tha hesn't dared to hunt, but it's pitch black now and we'll noan find it in the dark. Sitha lad, let's coom up tomort morn and lewk for it."
— Eric Knight, The Flying Yorkshireman, 1942

The local kids have spotted the Liverpool midfielder. Shouts in their native Scouse accents pierce the air: "Lewk! It's Harry Kew-well! Harry Kew-well!" Within moments, they excitedly surround their hero, bombarding him with requests for autographs and tickets…
— Melissa Field, The Advertiser (Adelaide, South Australia), 5 Mar. 2005
The use of lewk in the fashion industry as a way to zhuzh up look has its champions:
As a breakout personality on the Bravo reality series "The Rachel Zoe Project," Mr. [Brad] Goreski assists in styling celebrities like Demi Moore, Kate Hudson and Cameron Diaz for such glamorous events as the Oscars. When he speaks, viewers are expected to understand the difference between a "look" and a "lewk," "working" and "werking" and "major" and "mayjor." Sitting in the lobby of the Mercer Hotel just before the most recent New York Fashion Week, where Mr. Goreski was a constant, Zelig-like presence, he explained: "A 'lewk' is like, 'I'm wearing a lewk today,' it's something that everybody will notice. It's like you're out of the pages of a magazine, that's a lewk." "'Werk' is a feeling," he continued, "like you werk your lewk. Like, was it werking? Was it happening, was it going on? A mayjor lewk is, like, above and beyond actual major."
— Ben Widdicombe, The New York Times, 19 Sept. 2010
Examples of 'Lewk'
Goreski made lewk part of his signature vocabulary on the The Rachel Zoe Project, using the word frequently on his own Twitter during his stint on the show, which he left in 2010. After being popularized there and in other places, lewk is now found all over the place in writing about fashion:
Of course, Rihanna had to put her own spin on the lewk which she dubbed "casual" in her Instagram photo. She paired the layered dress with a pair of white kicks, stunna shades (for the haters), and a gold watch.
— Chantel Morel, BravoTV.com, 11 Oct. 2017

Frequent flyers such as Bella and Gigi Hadid, Emily Ratajkowski, and Priyanka Chopra have mastered the art of effortless travel style. Indeed, there's a strategic formula these stylish celebrities follow to ensure that they'll look put together for the awaiting paparazzi. And yet, the secret to nailing an airport lewk is easier than one thinks: It's all in the travel bag.
— Christian Allaire and Madeline Fass, Vogue, 23 Apr. 2019

The other thing I realized is that I should pay attention to girlie things like jewelry and shoes and purses (oh, my!). I know, with all that's going on in the world, do we really need to think about this stuff just to put together an outfit? But if you have an important event, these things do help give you a lewk instead of just a look.
— Rachel Dratch, InStyle, 19 Apr. 2019

There were a lot of A-listers to behold at tonight's Golden Globes — the carpet itself was 902 feet long, for Pete's sake — but Pose star Billy Porter has held our attention all weekend with lewk after lewk... after lewk.
— Landon Peoples, Refinery29, 6 Jan. 2019
Does lewk fit into your vocabulary? To be honest, not everyone can pull it off.
Words We're Watching talks about words we are increasingly seeing in use but that have not yet met our criteria for entry.