What Is a 'Cord-Cutter'?
We'll tell you next Wednesday, if you can be home between 12 and 2.
Update: This word was added in October 2021.
Has your household cut the cord yet?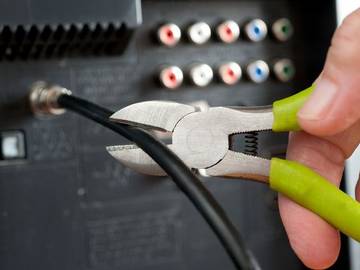 The term cord-cutter has emerged to refer to those who end their subscriptions to cable, the industry that once held a monopoly of sorts on home entertainment. With its flat fees and bundled deals, the cable model often means that a subscriber pays handsomely for 200 channels, only to watch a handful on a regular basis. New technologies have provided more competition on the media marketplace, so, naturally, some of those who had once subscribed to cable have abandoned it to explore other options.
Cord-cutting has become its own phenomenon, so much that there are podcasts and blogs devoted to those who have opted to do away with cable and are looking for newer, cheaper ways to watch TV and movies via the Internet.
Since cable television runs through—obviously—a cable, the phrase cut the cord and its logical extension cord-cutter suggest a doing away of a tether, similar to the one suggested by landline. It also emphasizes that many of the newer preferred replacement options are available by wireless Internet technology.
The idiom cut the cord saw some use when people began ditching their landlines in favor of cell phones:
In case you haven't noticed, this country's 300 or so wireless telecommunications companies are eager for phone users to cut the cord on their wired phones and go completely mobile.
— Catherine Greeman, The New York Times, 19 Aug. 1999
Recent use, however, speaks of the transition away from cable TV:
Sports was something photographer Daniel Jester, 30, of Riverside, missed when he and wife, Alesia, cut the cord six years ago to seize control of a bill that had reached $200 a month.
— David Downey, The Press Enterprise (Riverside, CA.), 24 July 2015

When I called the good people at Time Warner Cable to inform them that I was unequivocally getting rid of all television service, they tried to convince me to stay. But I insisted: no mini-packages, no promotions, no nothing. No cable TV. After some spirited back-and-forth, Time Warner Cable acceded to my wish to cut the cord.
— Leon Lazaroff, The Street.com, 6 Aug. 2015
And so naturally one who has made the leap to wireless has become a cord-cutter:
... In the U.S., Disney has been part of a group of companies pushing new services to attract so-called cord-cutters, or people who are ending their cable subscriptions.
— Laurie Burkitt, The Wall Street Journal, 15 Dec. 2015
Idiomatically, we've already been cutting the cord for a long time, only in a different way. There are literal cords, for one thing, such as on a ship or gallows:
In men-of-war, night and day, week in and week out, two life-buoys are kept depending from the stern; and two men, with hatchets in their hands, pace up and down, ready at the first cry to cut the cord and drop the buoys overboard.
— Herman Melville, White Jacket or, the World on a Man-of-War, 1850

Lollo had no great compassion for the prisoners, but being conscious of an excellent knife which was his unfailing companion, it had seemed to him from the first that to jump forward, cut a rope, and leap back again before the soldier who held it could use his weapon, would be an amusing and dexterous piece of mischief. And now, when the people began to hoot and jostle more vigorously, Lollo felt that his moment was come--he was close to the eldest prisoner: in an instant he had cut the cord.
— George Eliot, Romola, 1863
We have similarly used cut the cable in the past for such an act of severance:
Had she been any other boat Disko would have taken his chances, but now he cut the cable as the Carrie Pitman, with all the North Atlantic to play in, lurched down directly upon them.
— Rudyard Kipling, Captains Courageous, 1897
While the cable that we speak of now when we say "cut the cord" is almost always electrical cable, in the past it referred to any kind of thick rope or wire with great tensile strength.
We can also "cut the cord" in a figurative way, as when we end a longstanding relationship with someone (such as an employee or loved one):
The boos almost went unnoticed at first but by midway through Saturday's Smythe Division playoff game, it was clear the Edmonton Oilers and their fans had finally cut the cord with Gretzky. It came almost eight months to the day after his Aug. 9 trade to the Los Angeles Kings.
— The Toronto Star, 10 Apr. 1989

Briga Heelan stars as a meek producer at a cable news program called "The Breakdown." She works for a tyrant of an anchor (John Michael Higgins), has a boss who doesn't see her potential and can't seem to cut the cord from her mother (Andrea Martin).
— Bruce R. Miller, The Sioux City Journal, 23 Apr. 2017
The cord alluded to in this instance has nothing to do with electricity or ships or executioners. It's a stand-in for the umbilical cord—or, in a way, our first tether. Once that cord is severed, a newborn baby can nourish itself by feeding, and the figurative cut the cord suggests a similar graduation to a state of independence. One could easily make the argument that our fondness for referring to the ending of a cable subscription as cord-cutting might extend the analogy—a logical assumption if you regard your consumption of media as something you cannot survive without.
Words We're Watching talks about words we are increasingly seeing in use but that have not yet met our criteria for entry.