'Air Rage' and 6 Other Terms From Aviation
Come fly with us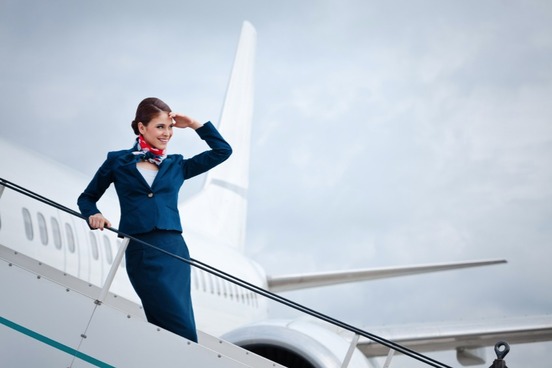 Definition
: a person who attends passengers on an airplane
About the Word
The question isn't "when did the title of stewardess change to flight attendant?" but "when did the title of flight attendant change to stewardess," since the evidence we have suggests that flight attendant was in use first.
Although stewardess has been used since at least 1631 to refer to 'a woman who performs the duties of a steward', our earliest example of it being used specifically in relation to a woman in an aviation setting comes from 1931. Flight attendant, however, has been used since at least 1928 (a headline in The Christian Science Monitor from October 27th of that year reads 'Flight Attendants Raise Title Issue'). The article says that "what to call the attendant who takes care of the passengers in the big air liners is a problem perplexing the transport companies," and notes that at least one of the flight attendants in question "was recently offended by a passenger calling him the 'cabin steward.'"
Example
"It's best to avoid masculine or feminine terms and expressions and to substitute more gender-sensitive words. For example, instead of 'policeman' or 'policewoman,' say 'police officer;' instead of 'stewardess,' say 'flight attendant.'" —Cheryl Hamilton, Essentials of Public Speaking, 2011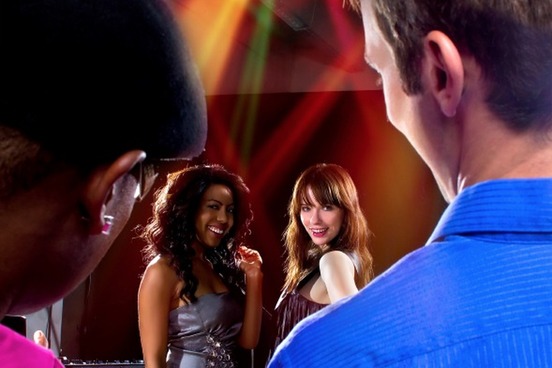 Definition
a pilot who flies behind and outside the leader of a flying formation
About the Word
Many people use wingman in a figurative sense, to refer to a person who offers general assistance—especially in a social situation. Yet wingman was first used in a military sense, to describe a pilot who assisted the leader of a flying formation. The word came to the English language through use in the Second World War, with its earliest known use dating from 1942.
A wingman may also refer to a sports player (in soccer or hockey) who occupies the wing position (to the right or left of the center player), also known as a winger. In this athletic sense, there is also evidence for wing-woman from at least the 1970s.
Example
"I made one final look around me before giving a visual signal to my wingman to prepare for a night water landing." —Flying, August 1949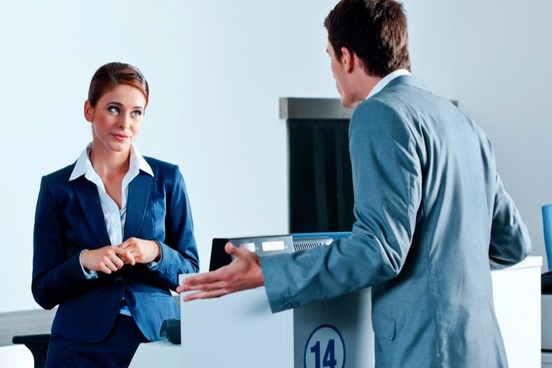 Definition
: an airline passenger's uncontrolled anger that is usually expressed in aggressive or violent behavior
About the Word
The first known use of air rage is from 1996, and the word was initially used in reference to the anger felt by pilots when beset by some indignity or other (such as nearly colliding with another plane). This term, however, quickly shifted in meaning, and by 1997 it had already begun to be applied to the seething anger felt by air passengers, rather than pilots, when faced with somewhat more pedestrian concerns (such as having to take the middle seat).
Example
"The good news is that air rage seems to be subsiding. The U. S. Federal Aviation Administration reported 178 cases in which aircrew were assaulted, threatened, intimidated or interfered with last year, a 39% decline from the previous year and a drop of 42% from the peak of 308 cases in 1997." —National Post [Ontario, Canada], 1 May 2000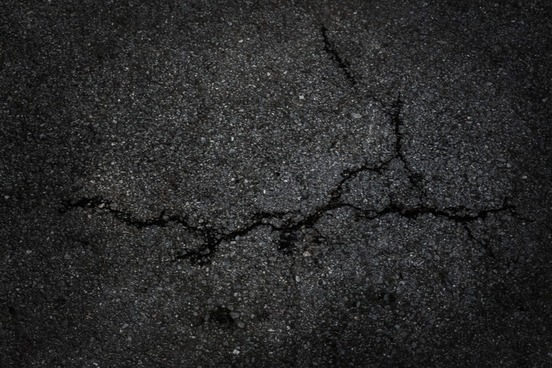 Definition
: a tarmacadam road, apron, or runway
About the Word
Tarmac is a word with a botched formation, but botched for a fairly good reason. It is a shortening of the word tarmacadam, which it itself formed by combining the words tar (a very thick, black, sticky liquid made from coal that becomes hard when it cools and that is used especially for road surfaces) and macadam (a road surface made with a dark material that contains small broken stones).
Macadam was developed by a man named John Loudon McAdam, a Scottish surveyor. One can see how the word would be rather difficult to pronounce if he had attached the actual beginning of his name (Mc, instead of Mac) as a prefix. Had the word been formed in an etymologically precise fashion we would now be referring to planes taxiing down the tarmc.
Example
"The Lord Chief Justice said he thought that when the rule was asked for it was suggested that the tarmac was put down solely to get the automobile meeting." —The Builder, 5 May 1906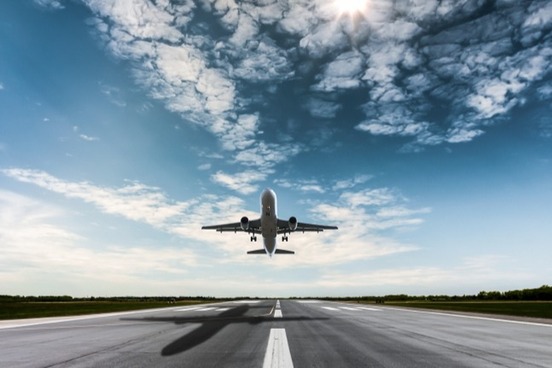 Definition
:a paved strip of ground on a landing field for the landing and takeoff of aircraft
About the Word
Runway has had a wide variety of uses over the past two hundred years or so. It entered English in the early 19th century, with the meaning of 'the beaten path made by animals in passing to and from their feeding grounds'. In the subsequent century it took on additional meanings of 'the channel of a stream', 'a road on which logs are skidded', 'the channel or a stream', and several others. By 1909 the landing and takeoff strips employed by airplanes were being referred to as runways.
One of the common modern senses of runway (a raised platform for fashion models to parade on) began almost immediately after (although there is no indication that this sense is related to that of the aircraft), with a mention from the Chicago Daily Tribune from 1915: "We have had stage shows of gowns, and we have had the runway that ran the models right over the heads of the audience".
Example
"A perfect stretch within the enclosure of the track, a kilometer long and almost as wide, is being graded for landing while the brick surfaced stretches of the track almost a mile in length afford a perfect runway for rising into the air." —Detroit Free Press, 7 November 1909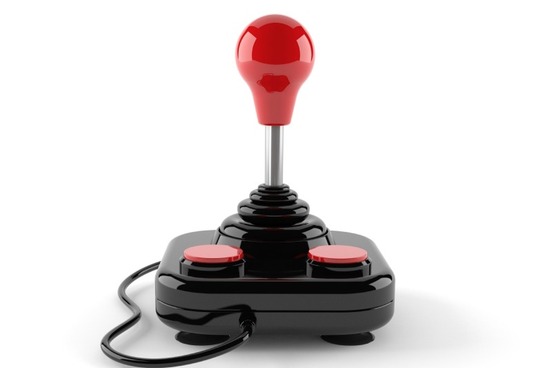 Definition
: a lever in an airplane that operates the elevators by a fore-and-aft motion and the ailerons by a side-to-side motion; a control for any of various devices (as a computer) that resembles an airplane's joystick especially in being capable of motion in two or more directions
About the Word
There is little doubt as to why the word joystick ends with stick; it is, after all, an accurate representation of the item. There is, however, some uncertainty as to why the word begins with joy (although etymologists have speculated that it—oh, use your imagination).
Whatever uncertainty there may be regarding the composition of joystick, it is fairly certain that the word began being in English, around 1910, as a slang aviation term. Since then it has had a number of figurative uses (including, for a brief time, being applied to an opium pipe). By the 1950s joystick was being used to refer to a small lever that would allow a person to make adjustments to the movement of some sort of electronic cursor or on a television screen. This lead to what is now the most common use, and one that has become so common that it has eclipsed the original sense, which is for the lever on a computer gaming console.
Example
"I was so pleased that in my excitement I pulled the 'joystick' and looped the loop several times." —San Francisco Chronicle, 8 October 1916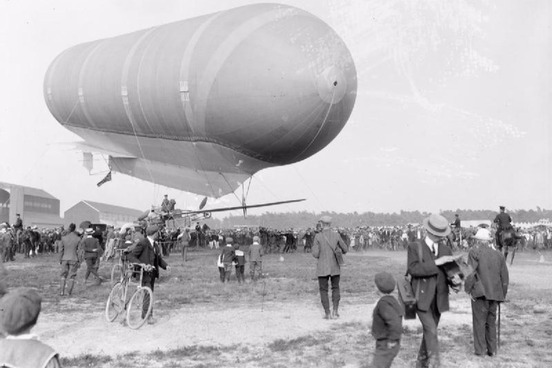 Definition
: a lighter-than-air aircraft having a propelling system and a means for controlling the direction of motion
About the Word
Before we had airplanes there were a number of other methods of traveling through the air. Balloon travel has carried humans aloft since the end of the 18th century, and the glider has been used since the end of the 19th. In between these two antecedents to the airplane we had the airship, also known as the dirigible.
Dirigible existed as an adjective well before it was used as a noun, to refer to a vessel held aloft by gas – it means 'steerable' (from the Latin dirigere to direct).
Example
"Gay, George M., carried out over Long Island Sound in runaway dirigible; rescued by steamship Sagamore, July 6, II., 1:8." The New York Times Index, July, August, and September 1913