Word of the Day : April 22, 2019
---
Definition
1 : poison
2 a : to excite or stupefy by alcohol or a drug especially to the point where physical and mental control is markedly diminished 
b : to excite or elate to the point of enthusiasm or frenzy
Did You Know?
For those who think that alcohol and drugs qualify as poisons, the history of intoxicate offers some etymological evidence to bolster your argument. Intoxicate traces back to toxicum, the Latin word for "poison"—and the earliest meaning of intoxicate was as an adjective describing something (such as the tip of an arrow or dart) steeped in or smeared with poison. That meaning dates to the 15th century; the related verb, meaning "to poison," occurs in the 16th. Both senses are now obsolete. Today, we talk about such harmless things as flowers and perfume having the power to intoxicate. Toxicum turns up in the etymologies of a number of other English words including toxic ("poisonous"), intoxicant ("something that intoxicates"), and detoxify ("to remove a poison from"), as well as a number of names for various poisons themselves.
---
Examples
"But, even as a child, [George] Benjamin preferred classical music: Stravinsky's 'The Rite of Spring,' Mussorgsky's 'Night on Bald Mountain,' Dukas's 'The Sorcerer's Apprentice,' and Beethoven above all. He was 'intoxicated by music,' he told me, noting, 'If I had an afternoon off, I would spend it looking at scores, practicing the piano, writing music….'" — Rebecca Mead, The New Yorker, 17 Sept. 2018
"I ate the berries myself, my tongue carefully and eagerly pressing each one to my palate. The sweet, aromatic juice of each squashed berry intoxicated me for a second." — Varlam Shalamov, "Berries" in Kolyma Stories, 2018
---
Test Your Vocabulary with M-W Quizzes
---
Name That Synonym
Fill in the blanks to complete a synonym of intoxicate meaning "to make drunk": so _ _ l _.
VIEW THE ANSWER
---
Video
play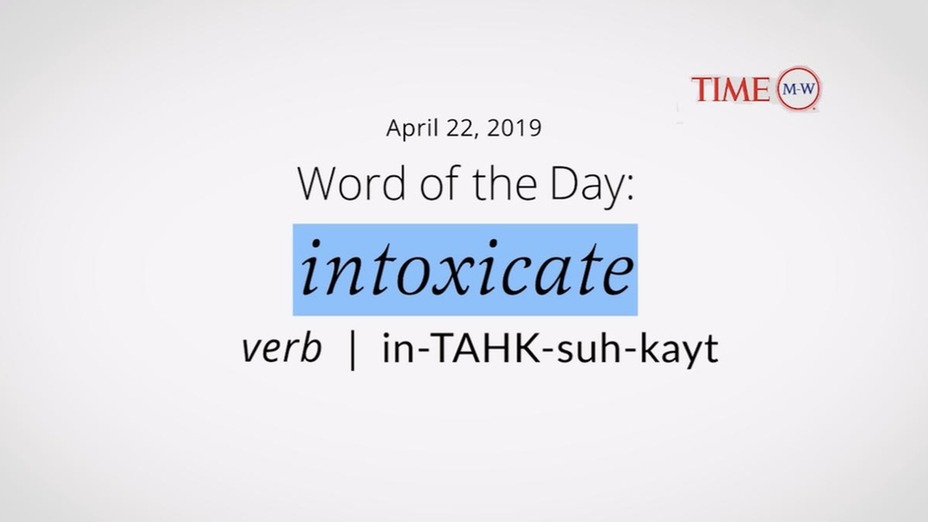 'Intoxicate' — Video Word of the Day 4/22/2019
verb - to affect and impair by alcohol or a drug
---
---