/

Vocabulary
Bridge to Terabithia Reading Guide
The land of Terabithia is Jess's escape from his fractured home-life, and it soon becomes a sacred place to him.
---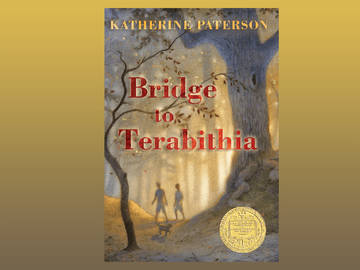 All Jess Aarons wants is to have a lot of fun while also getting some attention from his father, who always seems to be focusing on something other than Jess. Jess has a lot of big dreams, but he's afraid to reveal the things that he truly loves to do in fear of isolation or criticism, especially from his father. He loves to paint, but he knows that people will mock him for having such a "feminine" hobby. So instead, in order to please his father and gain some respect, he tries to become the fastest runner in the fifth grade.
That's where Leslie Burke makes her dramatic entrance. Leslie, who just moved in next door to Jess, takes it upon herself to join the boys race at recess. Of course, she beats all of the boys in the race and leaves them jaw dropped, feeling emasculated and embarrassed.
Leslie and Jess slowly form a friendship, and it soon turns into an unbreakable bond. Together, they create a fantasy land called Terabithia (a secret one, of course), and every day, they engage in new, crazy adventures, like defeating strange-looking creatures (the evil intruders of Terabithia) and praying to the spirits that live among them.
The land of Terabithia is Jess's escape from his fractured home-life, and it soon becomes a sacred place to him. The non-stop action in this story will leave you wanting more.
Bridge to Terabithia incorporates a multitude of themes, telling a beautiful story of hardship, pain, friendship, love, adventure and imagination.
Vocabulary by Chapter Index
Vocabulary from Chapters 10-13
Discussion Questions
Why do you think the land of Terabithia is so important to Jess and Leslie? More importantly, why do you think they kept it a secret?

Jess is very afraid to swing over the creek into Terabithia. Do you think he could have told Leslie that he was afraid? How do you think she would have reacted? Have you ever used your imagination to create some sort of fantasy? Has it led you on any adventures?

SPOILER:How did you feel when Jess heard that Leslie drowned on her way into Terabithia? How would you describe Jess when he heard the news? Why do you think he started eating pancakes like nothing had happened? Were you happy when Jess made May Belle the new queen of Terabithia? Do you think she'll make a good leader? Why?
---