Medical Definition of ubiquitin
: a chiefly eukaryotic protein that when covalently bound to other cellular proteins marks them for proteolytic degradation especially by a proteasome
What they found was a protein called ubiquitin, so named because it is ubiquitous, occurring in every cell of the body. Through a series of clever studies, they found that cells marked proteins destined for destruction by attaching one or more ubiquitin molecules to them.
— Thomas H. Maugh II

, The Los Angeles Times,

7 Oct. 2004
Ubiquitin tagging directs the movement of important proteins in the cell, determining, for example, whether they end up on the cell membrane or in an internal vacuole, where they are destroyed without the proteasome's help.
— Jean Marx

, Science,

13 Sept. 2002
Return of Name that Color!
Name that color: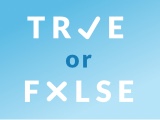 Test your knowledge - and maybe learn something along the way.
TAKE THE QUIZ