Medical Definition of Morquio's disease
: a mucopolysaccharidosis that is characterized by excretion of keratan sulfate in the urine, dwarfism, a short neck, protruding sternum, kyphosis, a flat nose, prominent upper jaw, and a waddling gait

Note: Morquio's disease is inherited as an autosomal recessive trait requiring that both parents pass on a copy of the defective gene on a chromosome other than a sex chromosome.
Slippery Words Quiz—Changing with the Times
What is an earlier meaning of nice?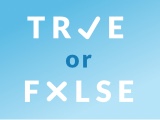 Test your knowledge - and maybe learn something along the way.
TAKE THE QUIZ