Roe v. Wade
U.S. Case Law
Legal Definition of Roe v. Wade
410 U.S. 113 (1973), established a woman's right to have an abortion without undue restrictive interference from the government. The Court held that a woman's right to decide for herself to bring or not bring a pregnancy to term is guaranteed under the Fourteenth Amendment. A Texas law prohibiting abortions had been challenged by an unmarried pregnant woman (Roe) and the court ruled in her favor, finding that the state had violated her right to privacy. In attempting to balance the state's rights against the rights of the individual, Justice Harry A. Blackmun held that the state's legitimate interest in protecting potential life increased as the pregnancy advanced. While allowing that the state may forbid abortions during the third trimester, Blackmun wrote that a woman is entitled to obtain an abortion freely, after consultation with a doctor, in the first trimester and in an authorized clinic in the second trimester.
Difficult Spelling Words Quiz
Which is the correct spelling?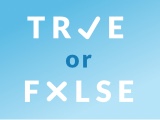 Test your knowledge - and maybe learn something along the way.
TAKE THE QUIZ