Indian Removal Act of 1830
Law
Legal Definition of

Indian Removal Act of 1830
one of the first legislative steps in creating the reservation system from which 25 U.S.C. § 174 is derived. Despite a 1789 act of Congress, 1 Stat. 137, declaring that the land rights of Native Americans must be respected and that their title could only be extinguished by treaty, the 1830 act authorized the president to purchase land from tribes east of the Mississippi and grant them perpetual title to land west of the river. In carrying out the law, resistance was met with military force. The discovery of gold in California (1848) started a new sequence of broken treaties and war. An act of March 3, 1871, 15 Stat. 566, terminated native tribes' status as independent powers with which the United States could contract by treaty and brought Native Americans under tighter legislative control, ultimately assigning them to reservations. The infamous Dawes General Allotment Act of 1887, 25 U.S.C. § 331 et seq. (1887), divided the reservations into individual parcels and gave every inhabitant a particular piece of the land. The result was disastrous: through the alienation of surplus lands and the patenting of individual holdings, Native American peoples collectively lost 62 percent (86,000,000 acres) of their tribal lands. In 1934, Congress adopted the Indian Reorganization Act, 25 U.S.C. § 461 et seq. (1934), which contemplated an orderly decrease in federal control and a concomitant increase of Native American self-government. About 160 tribes adopted written constitutions, and a revolving credit fund helped Native Americans improve their economic position. The Snyder Act, 25 U.S.C. § 13 (1921), extended citizenship to all Native Americans, but few took advantage of the law. In the 1950s many petitions for land claims against the United States were granted, with awards totaling nearly $1 billion. In 1968, Congress passed the Indian Civil Rights Act, 25 U.S.C. § 1301 et seq., prohibiting tribes exercising the powers of self-government from infringing on rights (as to freedom of speech and trial by jury) guaranteed under the U.S. Constitution. In subsequent decades Native Americans continued to strengthen their tribal governments and increase their use of the courts to obtain rights to economic resources connected with tribal lands.
Musical Words Quiz
Which word describes a musical performance marked by the absence of instrumental accompaniment?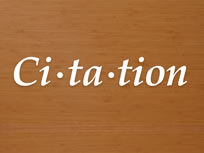 Test Your Knowledge - and learn some interesting things along the way.
TAKE THE QUIZ