Engel v. Vitale
U.S. Case Law
370 U.S. 421 (1962), held that state-sanctioned prayer in public schools is unconstitutional. The Court found that even when a prayer is essentially nondenominational and pupils who so desire may be excused from reciting it, if the action is state sponsored the state is in violation of the constitutional separation of church and state. Later rulings would similarly affirm that devotional exercises in public schools went against the establishment of religion clause.
Which of the following best describes an easily irritated person?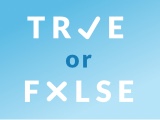 Test your knowledge - and maybe learn something along the way.
TAKE THE QUIZ