Bowers v. Hardwick
U.S. Case Law
Legal Definition of Bowers v. Hardwick
478 U.S. 186 (1986), held that the fundamental right to privacy as guaranteed by the Constitution does not extend to sex acts regarded as sodomy under state law, even if such acts take place between consenting adults in the confines of the home. The case originated when a gay Georgia man was arrested in his home for engaging in oral sex there with another man in violation of a state sodomy law. The Supreme Court, in a sharply divided opinion (5–4), upheld the constitutionality of the Georgia statute on the grounds that it reflected a legitimate belief by society that certain sex acts are immoral and unacceptable. In a notable dissent, Justice Harry Blackmun argued that the ruling violated one of the most fundamental rights of all, "the right to be let alone." The decision in Bowers was overruled in 2003 (see also Lawrence v. Texas).
Slippery Words Quiz—Changing with the Times
What is an earlier meaning of nice?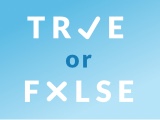 Test your knowledge - and maybe learn something along the way.
TAKE THE QUIZ