Definition of popularity contest
: a contest or situation in which the person who wins or is most successful is the one who is most popular rather than the one who is most skillful, qualified, etc.
The election was just a popularity contest. Voters didn't really care about the issues.
—
often used to say that someone or something is not popular
After laying off hundreds of workers, the company isn't going to win any popularity contests around here.
Eponyms: Words Named After People
What is the best definition of boycott?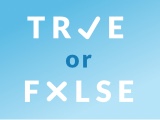 Test your knowledge - and maybe learn something along the way.
TAKE THE QUIZ