: an arctic cetacean (Monodon monoceros) that reaches a length of about 16 feet (5 meters) and possesses in the male one or rarely two long, spirally twisted, pointed tusks
Note: Although the narwhal is classified as a toothed whale (suborder Odontoceti), it does not possess any teeth in its mouth.
Name That Food
Name these cookies!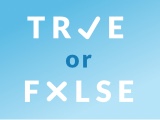 Test your knowledge - and maybe learn something along the way.
TAKE THE QUIZ