Definition of horn
(Entry 1 of 2)
1
a
: one of the usually paired bony processes that arise from the head of many ungulates and that are found in some extinct mammals and reptiles: such as
(1)
: one of the permanent paired hollow sheaths of keratin usually present in both sexes of cattle and their relatives that function chiefly for defense and arise from a bony core anchored to the skull — see cow illustration
(3)
: a permanent solid horn of keratin that is attached to the nasal bone of a rhinoceros
(4)
: one of a pair of permanent bone protuberances from the skull of a giraffe or okapi that are covered with hairy skin
b
: a part like an animal's horn attributed especially to the devil
c
: a natural projection or excrescence from an animal resembling or suggestive of a horn
e
: a hollow horn used to hold something
2
: something resembling or suggestive of a horn: such as
a
: one of the curved ends of a crescent
b
: a sharp mountain peak
c
: a body of land or water shaped like a horn
d
: a beak-shaped part of an anvil
e
: a high pommel of a saddle
3
a
: an animal's horn used as a wind instrument
b
: a brass wind instrument: such as
c
: a wind instrument used in a jazz band
especially
:
trumpet
d
: a usually electrical device that makes a noise like that of a horn
5
: one of the equally disadvantageous alternatives presented by a dilemma
Definition of Horn (Entry 2 of 2)
cape just south of the Arctic Circle in northwestern Iceland
a plan in which a last survivor takes all
Get Word of the Day daily email!
The Eponym Quiz
Which is the best synonym of bowdlerize?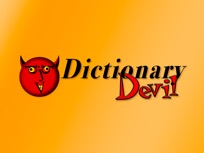 Test Your Knowledge - and learn some interesting things along the way.
TAKE THE QUIZ