About Us
---
Noah Webster and America's First Dictionary
Born in West Hartford, Connecticut in 1758, Noah Webster came of age during the American Revolution and was a strong advocate of the Constitutional Convention. He believed fervently in the developing cultural independence of the United States, a chief part of which was to be a distinctive American language with its own idiom, pronunciation, and style.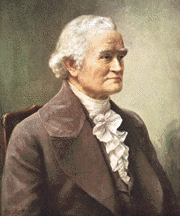 In 1806 Webster published A Compendious Dictionary of the English Language, the first truly American dictionary. For more information on this milestone in American reference publishing, please see Noah Webster's Spelling Reform and A Sample Glossary from A Compendious Dictionary of the English Language. Immediately thereafter he went to work on his magnum opus, An American Dictionary of the English Language, for which he learned 26 languages, including Anglo-Saxon and Sanskrit, in order to research the origins of his own country's tongue. This book, published in 1828, embodied a new standard of lexicography; it was a dictionary with 70,000 entries that was felt by many to have surpassed Samuel Johnson's 1755 British masterpiece not only in scope but in authority as well.
One facet of Webster's importance was his willingness to innovate when he thought innovation meant improvement. He was the first to document distinctively American vocabulary such as skunk, hickory, and chowder. Reasoning that many spelling conventions were artificial and needlessly confusing, he urged altering many words: musick to music, centre to center, and plough to plow, for example. (Other attempts at reform met with less acceptance, however, such as his support for modifying tongue to tung and women to wimmen—the latter of which he argued was "the old and true spelling" and the one that most accurately indicated its pronunciation.)
While Webster was promoting his dictionary, George and Charles Merriam opened a printing and bookselling operation in Springfield, Massachusetts, in 1831. G. & C. Merriam Co. (renamed Merriam-Webster Inc. in 1982) inherited the Webster legacy when the Merriam brothers bought the unsold copies of the 1841 edition of An American Dictionary of the English Language, Corrected and Enlarged from Webster's heirs after the great man's death in 1843. At the same time they secured the rights to create revised editions of that work. It was the beginning of a publishing tradition that has continued uninterrupted to this day at Merriam-Webster.
Further information on the birthplace and life of Noah Webster is available at the Noah Webster House/Museum of West Hartford History.