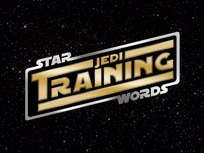 Star Wars Words Quiz
Is the Force strong in you?
George Lucas may not have been thinking of future lexicographers when he came up with the unique vocabulary of Star Wars, but we're here to help you sort through some of it. May the Force be with you.
START THE QUIZ
Next:

How Strong Is Your Vocabulary?
Next:

November 2017 Words of the Day Quiz
Next:

The Exceptions Quiz III
Next:

Early Spring 2021 Words of the Day Quiz
Next:

Advanced Vocabulary Quiz
Next:

Up in the Sky: A Quiz
Next:

Confusing Words—A Quiz
Crosswords, Puzzles, and More
More Games
Many of our games used Adobe Flash, but Adobe discontinued support. We'll be working on some pretty big changes over the next couple months. We're really excited about what we have in store and we hope you stick with us through this tough transition.